Chieftains mix it up to secure road win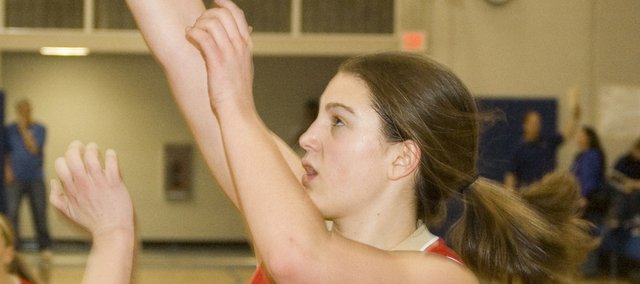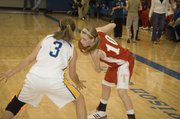 Perry — Some subtle changes did the Tonganoxie High girls basketball team a load of good on Friday as the Chieftains won at Perry-Lecompton, 46-36.
Trailing by a point after two quarters, THS came out in the second half with increased backcourt pressure and trapping that helped the Chieftains (10-4 overall, 5-2 Kaw Valley League) outscore the Kaws by 13 points in the finial 16 minutes.
"We switched it up like three different times on them and I think that confused them a little bit," THS coach Randy Kraft said.
Tonganoxie forced plenty of second-half turnovers, creating easy scoring chances, and senior point guard Chrissie Jeannin said that changed the game.
"We got some momentum going because they were having some trouble handling our trap," she said.
The other change came as starting THS post players Roni Grizzle and Danielle Miller got in some foul trouble. With them on the bench, Kraft moved Jeannin to a forward spot — which has happened before — but the offense didn't miss a beat with junior Andie Jeannin running the point.
"It seemed to be working for us so we just kind of left her there and that gave C.J. (Chrissie Jeannin) a chance to play on the post and on the wing and kind of move her around a bit," Kraft said.
Both Jeannins flourished with the change as each scored 13 points, Chrissie scoring inside and Andie hitting three three-pointers. Andie said running the point wasn't new to her.
"Ever since I can remember, I've been point guard until this year," she said, adding that she started playing the position again at practice recently. "I'm still getting back in the flow."
The new approach made Tonganoxie more versatile, as did the team's response when PLHS set out to stop Grizzle from scoring. The senior forward tallied just five points as the Kaws double- or triple-teamed her but, Kraft said, she was able to move the ball to open teammates.
"It's a tribute to her understanding the game," the coach said of Grizzle's reaction to the defensive attention. "She kicked it to kids and they hit shots."
Grizzle often has made a living by getting the ball in the high post and driving to the paint but without that option THS had Andie Jeannin feeling it from outside as well as Abby Eisman and Danielle Miller knocking down open jump shots. Chrissie Jeannin said that was important to the team's development.
"It was really good," she said. "Everybody stepped up when they needed to."
At this juncture of the season, Andie Jeannin said, all the players have had successful outings and the Chieftains should have confidence in one another.
"Kraft has talked about how we need to all step up and fill our roles and I don't think we've all necessarily done that (before)," she said. "Some teams have a player that scores like 20 a night, but we don't."
THS held Perry-Lecompton scoreless for the first 6:38 of the fourth quarter. The Chieftains outscored PLHS 10-0 in that stretch as Chrissie Jeannin scored six, Andie Jeannin cashed a three and Lauren Hall hit a free throw.