Lansing a thorn in Chieftain grapplers' sides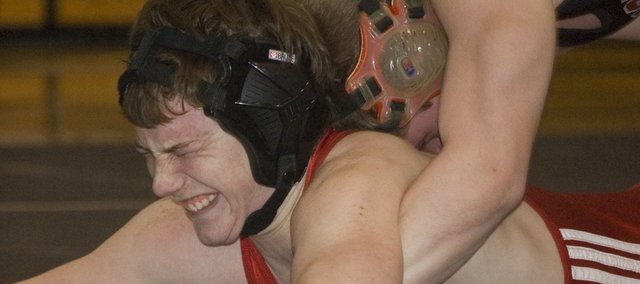 Photo Gallery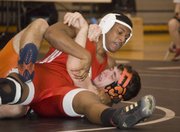 Tonganoxie wrestling duals at BSHS
The Chieftains split a pair of duals at Bonner Springs on Thursday.
Bonner Springs — On the road for a double dual on Thursday, the Tonganoxie High wrestling team had already forgotten about its 46-24 victory against the Braves by the time the night was over — Lansing, which bested the Chieftains, 52-24, made sure of that.
Ranked sixth in the state with seven grapplers currently ranked in the top five of their Class 5A weight classes, Lansing, it seems, always has Tonganoxie's number. After finishing behind the Lions at a number of events this season, the Chieftains were hoping to prove themselves at the dual but were able to win just four of 14 matches — freshman Caleb Himpel (119), junior Justin Crotty (125), senior Matt Brock (140) and senior Kevin Hamm (145) all were victorious by pinfall.
Finishing behind Lansing, Brock said, was irritating.
"We haven't beaten them in years. It drives us nuts," the senior said after pinning his LHS foe in 47 seconds. "Our coaches really want us to beat Lansing, and we're just sick of losing to them."
Hamm, who followed Brock's victory with a comeback win of his own to tie the Lansing dual at 24, said the whole team was disappointed in the outcome.
"There's no reason that we shouldn't have beat them," he said.
Tonganoxie wrestling coach Jeremy Goebel said his team was feeling the loss because the Chieftains are great competitors who wanted to make the rivalry less one-sided.
"When a team has your number," he said, "you want to compete extra hard."
The good news for THS is that the team will see Lansing again very soon — at 9 a.m. Saturday at Bonner Springs for the Kaw Valley League tournament.
"That would be awesome to beat them in league," said Hamm of topping the KVL favorite Lions.
The Chieftains were without freshmen Hunter Lohr (112) and Adam Thomas (103) — both out sick Thursday — and were subsequently down, 12-0, against Lansing. But the Chieftains quickly made things interesting with two straight pinfall victories courtesy of Himpel and Crotty. It wasn't until after Hamm's victory that Lansing got rolling with six straight victories and 28 unanswered points to win the dual.
Seven Tonganoxie grapplers won their bouts against Bonner Springs, and six of the victories came by pinfall.
Junior Jeremie Maus (171) won by an 11-3 decision while Himpel, Jon Harris (135), Brock, Jeremy Elliott (160), Steve Davis (189) and Austen Holloway (215) all scored victories with pins.
THS is now 8-5 in duals this season with one more, Thursday at Perry-Lecompton, left on the schedule.
Freshman Shane Starcher (152) lost both of his matches at BSHS. Jonas Myers, a freshman, lost his 285-pound match with Bonner Springs. Sophomore Tyler Hand (130) lost his only bout against Lansing. Sophomore Hank Somers (285) was pinned in his match against LHS.