Late lapses doom Tonganoxie
Perry-Lecompton rallies to knock off Chieftains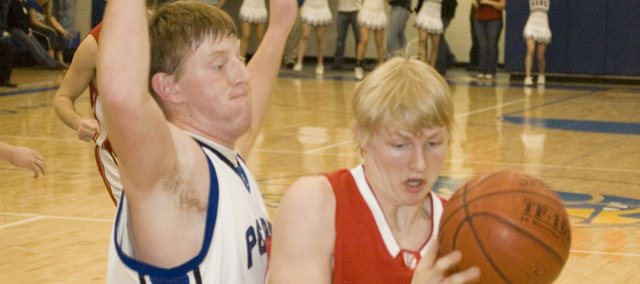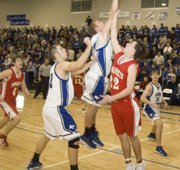 Perry — Entering the fourth quarter Friday at Perry-Lecompton, the Tonganoxie High boys basketball team had hit all of its free throws and led by six. But charity-stripe troubles and defensive breakdowns in the game's final minutes led to a disappointing loss as the Kaws rallied for a 49-45 win.
Before tying the game at 44 with 50 seconds remaining by hitting both ends of a one-and-one, senior center Austin Smith missed five of his first six free-throw attempts in the fourth quarter. Later, trailing by three with 13.2 left on the clock, junior forward Keaton Schaffer drew a foul on a three-point attempt and headed to the line with a chance to tie the game. After an air ball on his first chance, his second was short and he converted the third try. By the time the game was over, the Chieftains had gone 4-for-11 from the foul line in the final period (they went 6-for-6 before that) while PLHS hit six of eight in that stretch.
"You've got to go make free throws when it matters," THS coach Shawn Phillips said afterward.
Free throws alone, however, did not do in the Chieftains (8-6 overall, 4-3 Kaw Valley League). Tonganoxie couldn't stop senior Kaws guard Shane Gimzo's dribble penetration. He drove to the paint at will, scoring four layups in the fourth quarter — the last of which came in acrobatic fashion and gave PLHS the lead for good with 31 seconds remaining.
"He pretty much took over," Phillips said, noting THS didn't rotate defensively from the weak side of the floor. "We kept telling our guys to step in and take charges but we just couldn't get that done."
Down, 46-44, after Gimzo's last lay-in, Schaffer missed a shot inside and THS fouled Gimzo when he secured the rebound. The senior, who scored a game-high 19 points, missed the first of his two free-throw attempts but drained the second, putting PLHS up three with 22 seconds left.
After Schaffer's free throw with 13.2 to go, up by two, the Kaws found a streaking Brad Phillips on the ensuing inbound play to seal the game.
Before a 20-10 PLHS advantage in the final eight minutes, Tonganoxie looked to be in good shape after the third quarter, when THS outscored the Kaws, 10-4, thanks to threes from Jace Waters and Brandon Yoder, a Schaffer bucket and two free throws from Smith. Tonganoxie's failure to hold on to the lead disappointed Phillips.
"We didn't keep our mental focus and execute like we were supposed to," the coach said.
Junior sub Yoder scored the Chieftains' final eight points in the second quarter, helping THS to a halftime tie, and led Tonganoxie with 14 points. Smith scored 11.
Yoder said it was fun to play in such a competitive game but coming up on the losing side hurt. Sophomore point guard Jeremy Carlisle, who scored five points, said not everyone on the team had "come to play" and admitted he struggled as the team's lead guard.
"I feel like I let my team down a little and just choked under pressure," Carlisle said.