Board OKs energy plan for district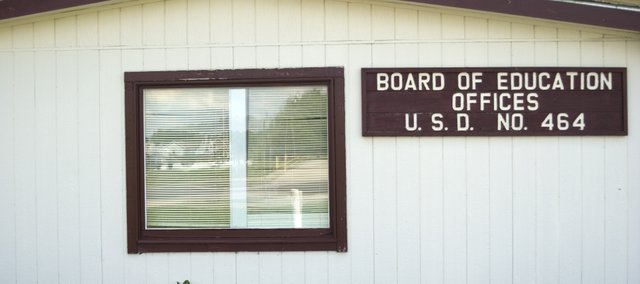 The Tonganoxie School District will be investing in more energy-efficient campuses.
The board unanimously approved Monday a contract with Trane for an energy performance contract, but artificial turf at Beatty Field will not be part of the project.
Financing will be done through Bank of America through a 15-year payment plan that carries a 4.98 interest rate.
The project will cost more than $2.1 million, with semi-annual payments set at $211,430. Savings through the efficiency plan are expected to be about $5,510.
The board also had the option of including football field turf installation, but that would have been $1 million more, and with the current economic climate, the board went with the other option.
Board members also discussed generating revenue by selling items, such as light bulbs, that are being replaced with more efficient substitutes, on eBay or elsewhere.
After Monday's meeting, assistant superintendent Kyle Hayden said the district would begin payments in July 2010, which would come out of the capital outlay fund. Hayden said the district is looking at $200,000 annually in operation savings.
Asked whether the district could add a field turf project to the plan, Hayden said it would not, but noted there was interest in field turf and it could be evaluated through other funding down the road.
"Obviously it has some merit when you see people doing it all around us," Hayden said, referring to field turf installation.
"Lawrence, Eudora, Bonner Springs, Piper has it," Hayden said, noting those schools have turf or are in the process. "Basehor wishes it had it, but didn't get it done."
Hayden said switching to artificial turf from grass could save $17,000 annually in operating costs.
Random drug testing a no-go for now at high school
The board did not vote on whether to implement random drug testing for extra-curricular activities at the high school.
Tim O'Hagan, THS Site Council chairman, spoke to the board about a possible policy
O'Hagan said the policy was non-punitive academically, but was a way to undermine the effects of peer pressure, provide for the health and safety of students, encourage students who use drugs to participate in drug treatment programs and educate students and parents about the risks and long-term adverse effects of illegal drug use.
Under the plan, which O'Hagan said the site council has been working on for months, students would be required to provide urine and/or saliva samples on a random selection basis and at any time requested by administration, based on reasonable suspicion of illegal or performance-enhancing drugs. Testing would be conducted through the direction of a professional laboratory.
Students who test positive for drugs would be subject to suspension for 28 days. A second offense would carry a suspension from activities from 18 to 36 weeks.
Board vice president Leana Leslie said she appreciated the work the site council had done, but preferred a program that addressed drug use from kindergarten through 12th grade. She also felt the need for more emphasis on alcohol abuse.
THS principal Jamie Carlisle spoke about the program, which was used at Baxter Springs, where he was principal before coming to Tonganoxie.
"We're not bringing this to you because we have a huge problem," Carlisle said. "There is not a huge problem in the high school, maybe a bigger problem than I believe in usage outside of school probably and outside of school time. That's why we're bringing this to you. This is being proactive."
In other business, the board:
• Approved a 2007-08 audit report by Lowenthal, Singleton, Webb and Wilson.
• Heard from employees about a wellness program in which faculty receive points for good eating habits, exercise and doling out compliments. The middle and elementary schools are using the programs. Employees jokingly challenged Jamie Carlisle and the high school to get involved.
• Discussed technology and transportation needs. It's possible the district will incorporate transportation fees for students who live within 2.5 miles of the building they attend. No definite fees have been set.
• Heard from maintenance director Larry Easter, who reported switching out a cleaning chemical, which he estimated would save the district nearly $3,900 annually. Easter reported he would cut summer help from 10 summer and student employees to 5 10-month employees, which would save nearly $22,000. Asked by board member Mildred McMillon whether that would hinder completing summer projects, Easter said it would make things more difficult, but he thought the department would still be able to function and properly finish the bulk of projects.
• Approved one-year contracts for all building administrators.
• Accepted the resignation of Phil Jeannin as summer driver's education instructor.
• Hired Matthew Johnson as summer driver's education instructor.
• Accepted the retirement letters of John Korb, seventh-grade Tonganoxie Middle School teacher, and Cindy Korb, fifth-grade TMS teacher.