BOCC

looks to staff for feedback on budget cuts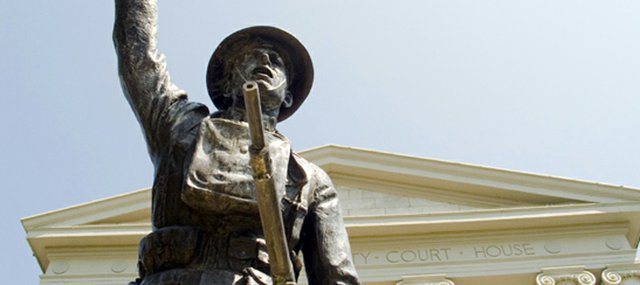 Leavenworth County Commissioner John Flower said the county has been pretty lucky that, for the most part, it has remained insulated from the worst of the economic crisis that has gripped the country.
But the toughest times may still be ahead for the county.
"We believe that in 2009 and 2010 we are going to have revenue shortfalls that will impact our budget for 2009 and certainly for 2010," Flower said. "We feel there is going to be an impact from grants. There will be an impact from revenues, fees as well as just from what we collect in sales tax."
On Monday afternoon, the board invited the directors of the different county departments to get their input on what they can do to cut costs so the county will not have to raise taxes to make up for any revenue shortfalls.
One of the main tools the board members were looking at was adjusting the salary package for county employees, which Flower said makes up 30 percent of the county's budget.
This could mean cuts in sick and annual leave and longevity pay.
"We have not modified some of our personnel activity for a number of years and we are no longer in parity with a number of government agencies as to how they treat sick leave, vacation, etcetera."
Flower had made some rough estimates as to what the county currently spends on the 13 days it allows county employees, the max it would spend on longevity and how much it costs the county during a holiday.
Using an estimate of $12 per hour wage, Flower said the county was spending around $600,000 on sick leave, a max payout of more than $8 million in longevity and a minimum of $47,000 in payment during holidays.
Mike Spickelmier, public works director, said his department has been trying to save money wherever it can, but he wanted to make sure that all county employees would have a say in what steps the county would have to take in the future.
"I think the employees understand there are going to be some sacrifices coming," he said. "They really want to be a part of the process. Let them feel that everybody gets a say. I learn more from the guys that have been here for 20-some years because they know what it was that motivated them at the time and what motivates them now."
The board asked that written suggestions on how to improve the employees' salary packages or ways to cut costs be submitted to Heather Morgan, the county administrator.
Tellefson said that they would not accept any anonymous suggestions because the board may have further questions on their suggestions and he promises "not to shoot anybody" for making a suggestion.
"It's not going to be perfect and it's not going to satisfy everybody, but we are going to do the best we can in an open form to run everything the best we can," Flower said.
In other business the board:
• Met in executive session for 15 minutes to discuss non-elected personnel for 15 minutes with Morgan.
• Unanimously voted to fund $400 for youth activities in Linwood.
• Singed a letter of support for the Leavenworth County Development Corporation for their lobbying trip to Washington D.C.
• Listened to a quarterly report from Linda Lobb, director on the county's Council on Aging. The board also unanimously voted to appoint Mary Sculley to the Wyandotte/Leavenworth Advisory Board.
• Listened to a quarterly report from EMS Director Jamie Miller. Miller told the board that a request for quotation for architectural services on the possibility of a new $1.5 million EMS station on Eisenhower Road. The board also unanimously approved to put out a request for proposal for a new EMS vehicle.
• Heard a quarterly report from Jeff Joseph, the county's planning and zoning director.