Jeannin clutch in
THS

nail-biter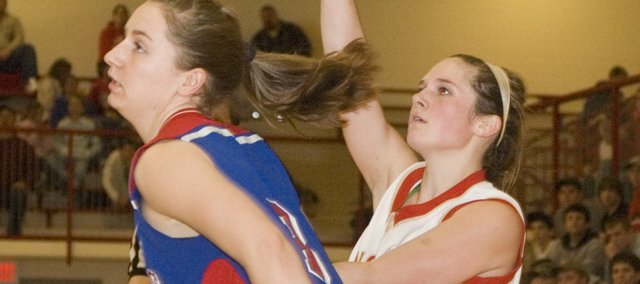 Junior Chieftains guard Andie Jeannin buried a jumper just inside the three-point line on the left wing with six seconds left to lead the Tonganoxie High girls basketball team to a 45-44 victory against Santa Fe Trail on Friday.
The clutch jump shot was Jeannin's fourth of the quarter as she scored 10 of Tonganoxie's 15 fourth-quarter points. Every time the Chargers took a lead, Jeannin and THS answered with a score.
Cassie Pryor hit two free throws with 6:36 remaining to give SFTHS its second lead of the game, but Jeannin responded with a pull-up jumper.
Amanda Bixel regained the lead for SFTHS with a bucket but the next time down the floor, junior THS guard Lauren Hall hit a three to take the lead back.
A Pryor free throw later gave the Chargers a 38-35 advantage and Jeannin hit a three to tie it.
Pryor then hit two freebies with 3:36 to go to put the Chargers up two. However, Jeannin hit her fourth and final three of the game with 2:37 remaining for a one-point Chieftains lead.
Bixel hit two free throws 16 seconds later to put the Chargers up one. After a Roni Grizzle bucket inside gave THS the lead once more, Bixel scored inside with 1:30 left and SFTHS led, 44-43.
Pryor led Santa Fe Trail with 14 points and Bixel added 13.
Jeannin scored a game-high 20 for Tonganoxie (12-4) and senior point guard Chrissie Jeannin had 11.
Tonganoxie travels to Lansing on Tuesday. Santa Fe Trail is at Basehor-Linwood.
Score by quarters
Santa Fe Trail 6 7 16 15 — 44
Tonganoxie 12 9 9 15 — 45
Santa Fe Trail scoring
Cassie Pryor 14, Devin Ramsey 4, Shara Luther 10, Korbynn Stallbaumer 1, Kate Badger 2, Amanda Bixel 13.
Tonganoxie scoring
Abby Eisman 2, Andie Jeannin 20, Chrissie Jeannin 11, Danielle Miller 2, Haley Smith 2, Lauren Hall 4, Roni Grizzle 4.