Tonganoxie boys handle Chargers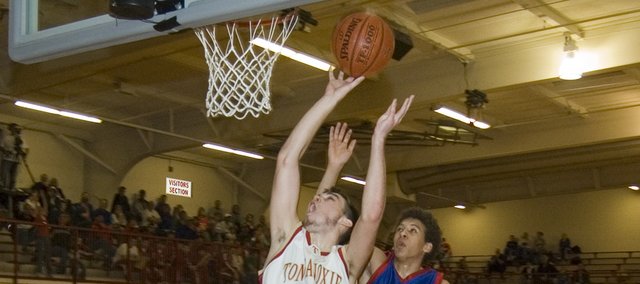 After a slow start, the Tonganoxie High boys basketball team opened the second quarter on a 10-0 run and cruised to a 58-44 win against Santa Fe Trail on Friday.
The Chieftains (10-6) trailed by a point after the first quarter but sophomore point guard Jeremy Carlisle sparked a game-changing run with a steal and a layup to open the second. Inside baskets from Keaton Schaffer and Austin Smith followed, as did free throws from Smith, Brandon Yoder and Jamie Everett.
Santa Fe Trail didn't get its first points of the second quarter until Corey Dahl hit a jumper with 2:28 to go in the half.
Tonganoxie was only up seven late in the third when Dahl scored a layup in transition but the Chieftains closed the quarter on a 9-2 run that began when Carlisle hit a hanging layup. Yoder then hit two free throws before Anthony Perry also hit a pair for SFTHS. Schaffer later set up Yoder for a layup.
Schaffer got Tonganoxie's final points of the third after he was fouled on a three-point attempt and he drained all three charity shots.
Schaffer led all scorers with 23 points. Although no other Chieftains scored in double figures they did have all 10 players score for the second straight contest.
Perry led the Chargers with 13 and Dahl had 11.
SFTHS travels to Basehor-Linwood on Tuesday and Tonganoxie hits the road for a matchup at Lansing.
Score by quarters
Santa Fe Trail 13 6 10 15 — 44
Tonganoxie 12 12 19 15 — 58
Santa Fe Trail scoring
Corey Dahl 11, Anthony Perry 13, Dalton Abel 6, Jesse Bahner 5, Drake Stewart 3, Denver Ramsey 2, Stuart Kraus 2.
Tonganoxie scoring
Keaton Schaffer 23, Jamie Everett 4, Austin Smith 9, Jace Waters 2, Rob Schlicht 3, Jeremy Carlisle 5, Brandon Yoder 6, Dylan Scates 2, Justin Jacobs 2, Tucker Hollingsworth 2.