Wrestlers grab 4th at
KVL

tourney
Brock wins
KVL

title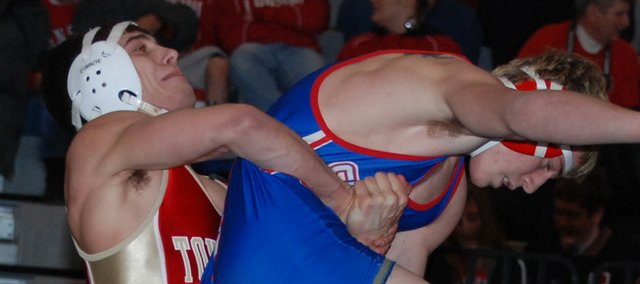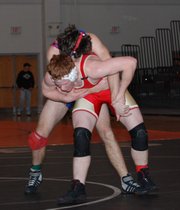 Matt Brock won the Kaw Valley League wrestling championship at 140 pounds and five other Tonganoxie High grapplers medaled, leading the Chieftains to a fourth-place finish in the KVL Championship tournament at Bonner Springs on Saturday.
Tonganoxie coach Jeremy Goebel said it was a good start to the team's postseason, which continues this weekend with a regional at Abilene and state to follow.
"Any time you can go to a tournament and have kids in position to bring a medal home, it's a good thing," Goebel said. "We competed very well on Saturday, and that's a great thing going into this next weekend."
The coach said the wrestlers are peaking at the right time and he was especially proud to have two underclassmen medal.
"Our kids wrestled tough and we had a couple of kids, Tyler Hand (sophomore) and Jonas Myers (freshman), who stepped up really big and got their first league medal," Goebel said.
Of course, the senior Brock had the most impressive day, going 3-0 on his way to his first KVL crown after finishing second in his other attempts. Brock won his title match with a 3-1 decision against Ryan Weaver of Santa Fe Trail.
"From start to finish, Matt had the match in hand. The score was a lot closer than the match was," Goebel said, noting it was a great way for the 140-pounder to end his league career. "It was a big win for him and a good way to keep the ball rolling into the final two weeks."
Brock's gold-medal finish gave the Chieftain grapplers six medals for the day. Senior Steve Davis (189) went 2-1, losing his only match in the title round by an 8-3 decision against Santa Fe Trail's Ryan Garrison.
"Steve was tough," Goebel said. "It was a good match, good match for the spectators to watch."
Heavyweight freshman Myers, wrestling in the 285-pound class despite weighing in at around 196 currently (which Goebel said often works to his advantage), also finished second with a 2-1 mark.
"It's good for Jonas to go out there and be able to get that confidence," Goebel said. "It's a tribute to his work ethic in the (practice) room and him being able to put the things together."
Junior 171-pounder Jeremie Maus went 3-1 at KVL and finished third.
"Week in and week out, he's getting out there and wrestling tough," his coach said.
Tonganoxie had a pair of grapplers go 2-2 and place fourth: Junior Jeremy Elliott (160) and sophomore Hand (130).
Three more Chieftains picked up at least one victory. Junior Justin Crotty (125) and seniors Jon Harris (135) and Kevin Hamm (145) all were 1-2 on the day.
Mill Valley won the KVL title with 184 points and nine medalists. Santa Fe Trail came in second with 159 points even though the Chargers had 10 medalists. Lansing had eight more points than Tonganoxie's 136 to take third. Five Lions medaled and four of them finished first. Goebel wasn't disappointed in the outcome.
"League, it's just another tournament, just like this weekend will be," Goebel said, looking ahead to the state-qualifying regional tournament. "We just go out and wrestle and good things will happen."
The Chieftains head Friday to Abilene for two days of regional competition. Their coach said their last few days of practice this week will be no different than any practices before. Goebel said THS grapplers just need to wrestle hard for six minutes at a time.
"If that happens," he said, "there should be good results."
Kaw Valley League Championships
Saturday at Bonner Springs
Team Standings
1. Mill Valley, 184
2. Santa Fe Trail, 159
3. Lansing, 144
4. Tonganoxie, 136
5. Perry-Lecompton, 119.5
6. Turner, 115.5
7. Basehor-Linwood, 95
8. Piper, 91
9. Bonner Springs, 76
10. Bishop Ward, 45
Individual champions
103 — Bo Pursel, Lansing
112 — Trevor Boyer, Mill Valley
119 — Nick Coffman, Piper
125 — Derrick Weller, Piper
130 — Spencer Blew, Lansing
135 — Dillon Scanlon, Lansing
140 — Matt Brock, Tonganoxie
145— James Mullin, Mill Valley
152 — Alex Orel, Bishop Ward
160 — Tyler Baughman, Lansing
171 — Josh Vanholland, Mill Valley
189 — Ryan Garrison, Santa Fe Trail
215 — Luciano Gutierrez, Turner
285 — Tanner McCleary, Bonner Springs
Tonganoxie individual results
103 — Adam Thomas, 0-2
112 — Hunter Lohr, 0-2
119 — Caleb Himpel, 0-2
125 — Justin Crotty, 1-2
130 — Tyler Hand, 2-2, fourth
135 — Jon Harris, 1-2
140 — Matt Brock, 3-0, first
145 — Kevin Hamm, 1-2
152 — Shane Starcher, 0-2
160 — Jeremy Elliott, 2-2, fourth
171 — Jeremie Maus, 3-1, third
189 — Steve Davis, 2-1, second
215 — Austen Holloway, 0-2
285 — Jonas Myers, 2-1, second
Tonganoxie individual season records
103 — Adam Thomas, 17-15
112 — Hunter Lohr, 11-20
119 — Caleb Himpel, 18-19
125 — Justin Crotty, 11-17
130 — Tyler Hand, 10-13
135 — Jon Harris, 18-19
140 — Matt Brock, 34-5
145 — Kevin Hamm, 22-19
152 — Shane Starcher, 8-21
160 — Jeremy Elliott, 25-17
171 — Jeremie Maus, 22-13
189 — Steve Davis, 29-10
215 — Austen Holloway, 9-13
285 — Jonas Myers, 19-6
Tonganoxie statistical leaders
Pins — Steve Davis, 34
Takedowns — Jeremie Maus, 65
Reversals — Caleb Himpel, 21
3-pt. NF — Kevin Hamm, 17
2-pt. NF — Kevin Hamm, 9