Abilene features competitive field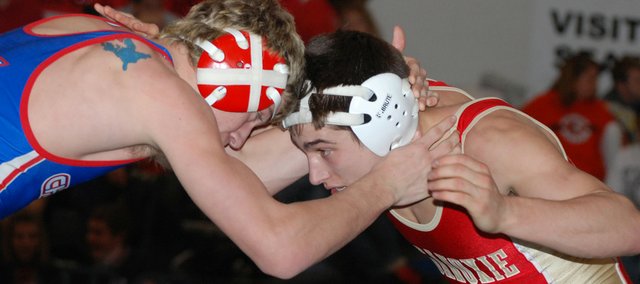 On Friday, the Tonganoxie High wrestling team will head to Abilene for two days of regional competition.
The top four wrestlers in each weight class at the regional will qualify for the Class 4A State Wrestling Tournament on Feb. 27 and 28 in Salina.
Other schools competing at the Class 4A regional at Abilene are: Abilene, Atchison, Chapman, Clay Center, Concordia, Hiawatha, Holton, Jeff West, Perry-Lecompton, Royal Valley, Santa Fe Trail, Topeka-Hayden, Smoky Valley and Wamego.
Three of those schools are ranked in the Class 4A Top 10 by the Kansas Wrestling Coaches Association. Clay Center is second, Abilene is fourth and Concordia is 10th.
What's more, four of the weight classes at Abilene are shaping up to be the most competitive 4A regionals in the state this weekend. At 103, 140, 160 and 215, three of the wrestlers competing at Abilene are ranked in the top six of their class by KWCA.
The 140 bracket features Tonganoxie's Matt Brock, sixth, Zach Reeb of Jeff West, fourth, and Kane Kelly of Abilene, fifth.
In 103-pound action, Abilene's Luke Cole is ranked second, Alex Wolf of Smoky Valley is fifth and Taelor Mendenhall of Concordia is sixth. Tonganoxie freshman Adam Thomas will be competing in that bracket.
At 160, Abilene's Ryan Wuthnow is ranked second, Zach Anderson of Clay Center is fifth and Jeff West's Ethan Mumaw is sixth. Chieftains junior Jeremy Elliott will compete in that bracket.
The 215-pound bracket has No. 2 Michael Patenaude of Clay Center, Abilene's Taylor Wuthnow, fourth, and Concordia's Levi Kindel, fifth. THS will be represented by junior Austen Holloway.
Four of the weight classes at Abilene have two top-six wrestlers.
THS freshman Caleb Himpel (119) could run into Clay Center's Logan Singular, ranked second, or Jeff West's Cass Steele, sixth.
Class 4A's top-ranked 145-pound grappler, Abilene's Quinton Wuthnow, is a potential foe of Tonganoxie senior Kevin Hamm, as is Perry-Lecompton's Trent Robb, sixth.
When 171-pound THS junior Jeremie Maus competes, he could face second-ranked Tyler Hassenbank of Concordia or No. 5 Cole Geison of Holton.
Among 285-pounders, Abilene's Tyler Gjerstad is ranked fourth and Royal Valley's Zach Wamego is sixth. THS will send freshman Jonas Myers to the mat.
The 135-pound bracket, where Chieftain senior Jon Harris wrestles, has one ranked grappler, No. 2 Tyler Anderson of Clay Center.
The same is the case at 152, where freshman Shane Starcher could face No. 4 Kyler Wallace of Clay Center.
THS senior Steve Davis (189) only has one ranked wrestler in his bracket, but it is Class 4A's No. 1, Joel Marrs of Clay Center.
The 112, 125 and 130 brackets are void of ranked grapplers. THS freshman Hunter Lohr will compete at 112, junior Justin Crotty wrestles at 125 and sophomore Tyler Hand will represent Tonganoxie at 130.
Visit www.tonganoxiemirror.com this weekend for updates and results from Abilene.