Jeannin stars in crunch time as
THS

wins, 45-44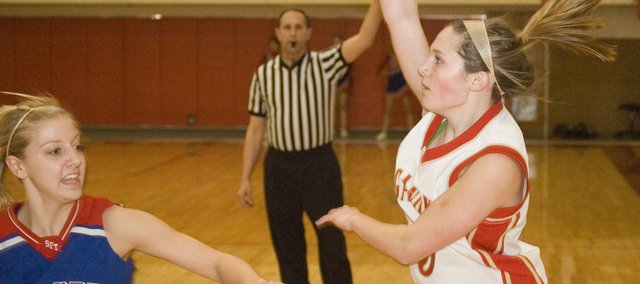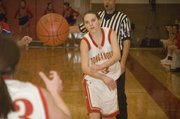 For the first three quarters of Tonganoxie High's girls basketball game Friday, junior guard Andie Jeannin looked to be having a pretty typical night — a layup early, some free throws here, a couple of three-pointers there, no big deal.
But once the final period started, and visiting Santa Fe Trail took just its second lead of the contest, "The Andie Jeannin Show" starring Andie Jeannin began and the Chieftains came away with a 45-44 victory thanks to a barrage of clutch jumpers from their fourth-quarter star.
When the spotlight shined brightest, so did Jeannin. The junior buried a jumper just inside the three-point line on the left wing with six seconds left, which gave Tonganoxie the lead and the win. What's more, every shot she made in the fourth quarter, when she scored 10 of Tonganoxie's 15 points on her way to a game-high 20, either tied the game or gave THS the lead.
Jeannin first hit a pull-up jumper at the free-throw line to put THS ahead, 32-31. With 4:11 remaining, she hit a three to tie the game. Just more than a minute and a half later, she hit her fourth and final three-pointer of the game to give the Chieftains a one-point lead.
The performance wasn't lost on THS coach Randy Kraft.
"She hit some pressure shots," Kraft said of Jeannin. "That was big. We were hoping to get the ball in her hands more. We could tell she was feeling it."
Even though every attempt she made was a pressure shot, Jeannin said she never thought about it in the heat of the moment.
"The last shot, I didn't even think that was a game-winning shot," she said. "I was just like, 'Hey, I'm open, I'll shoot.' I didn't think of it as a pressure shot."
That's probably the best approach to take and Jeannin admitted she didn't realize the importance of her final jumper until it went though the net and she looked up at the scoreboard. She thought maybe there were 15 or so seconds left, not five, when the Chargers took a timeout following the play.
Kraft said a coach doesn't always know ahead of time whether a particular player will perform the best in the clutch.
"You identify game to game," he said. "Andie was having a good game. Even though she was missing some shots early, they were rimming out, she was shooting confidently, and you can usually tell that in a kid's stroke."
Funny thing is, Jeannin said, even she can't tell before a game how she will shoot. More than once this season, she has been off in pregame, as she was Friday, and then got red-hot in the game.
"I guess now I better like miss on purpose in warm-ups," she joked.
Of course, Tonganoxie couldn't have improved to 12-4 overall and 7-2 in the Kaw Valley League without help from the entire roster. Kraft said Jeannin's teammates set her up for the performance when they realized she was feeling it.
"Hat's off to the team because they recognized it and they worked the ball until they got it to her because a lot of those weren't a play for her, they just did a good job of finding her," the coach said.
Also, Jeannin wasn't alone in scoring under pressure in the fourth quarter. Junior guard Lauren Hall hit a three to regain the lead for THS early in the period and senior forward Roni Grizzle, who was hampered with foul trouble throughout the contest, scored inside with 2:09 to go, putting the Chieftains up, 43-42.
Senior point guard Chrissie Jeannin scored 11 points in the first three quarters to keep Tonganoxie in the game.