Power lifters back with a bang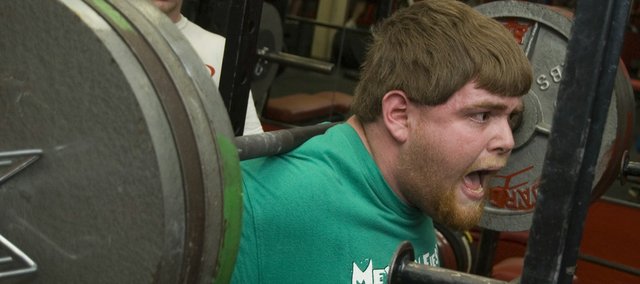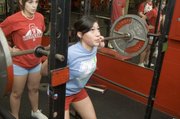 After a lengthy hiatus, Tonganoxie High is back in the business of power lifting, and, despite the discontinuity, the Chieftains have hoisted some trophies for their feats of strength.
Matt Bond, THS strength and conditioning coach, headed a power lifting team briefly for a couple of years when he arrived at Tonganoxie a little more than a decade ago. But when he became an assistant basketball coach, the lifting squad temporarily disbanded before returning this year with a bang.
Competing in their third meet this season Feb. 7 at Horton, the THS boys finished second and the girls grabbed gold with a first-place performance.
Although the program currently is in upstart mode, the success of the lifters isn't surprising considering Bond recruited almost all of the student-athletes who have been competing this year from his strength training classes. THS had 25 competitors at its first meet and as word of mouth has spread, Bond hopes to take 35-40 athletes to the team's next competition Saturday at West Franklin.
After struggling somewhat at their first few meets (the Chieftains had sporadic success, sophomore Dylan Anderson, for example, won a medal in his weight division early on), the lifters broke through at Horton, which didn't surprise their coach.
"They've all been breaking their own records," Bond said. "We'll only get better."
The girls have been powered by Makayla Sample, Dominique Grizzle, Eva Drennan and others while the boys have had strong showings from E.J. Field, Reece Hollingsworth, and Dylan Young, to name a few.
A senior, Hollingsworth knew he wanted to be on the team as soon as he heard about it from Bond.
"I really enjoy lifting weights. I thought it (competition) would be even more fun," he said, noting he soon found that to be true when he finished seventh overall at his first meet.
The lifters compete in three events — hang clean, bench and squat — and junior Ali George said the girls handle the exercises just fine.
"It is definitely more of a guys sport but we definitely work just as hard and put as much effort into it as the guys do," she said.
With some THS athletes participating in winter sports (basketball and wrestling), the roster isn't as big as the lifters would like to see — "If we grow in numbers, of course, our chances increase in winning," Hollingsworth said. But Bond said the team has been helped out by not only by out-of-season athletes but also by students who hadn't participated in traditional sports for THS. Plus, when the other seasons end, they might get an influx of athletes just in time for their final meet of the season, the Class 4A state championships Saturday, March 7 at Basehor-Linwood High School.
According to Bond, the power lifting success of BLHS, which he said has "taken off," actually played into the revival of the Tonganoxie program. The Chieftains didn't want to miss an opportunity to compete with their nearby foe.
Hollingsworth said the lifters are inspired to catch up with the Bobcats.
"Being they are our rivals in sports, it drives you more," he said.