Schaffer drives, dishes as Tonganoxie improves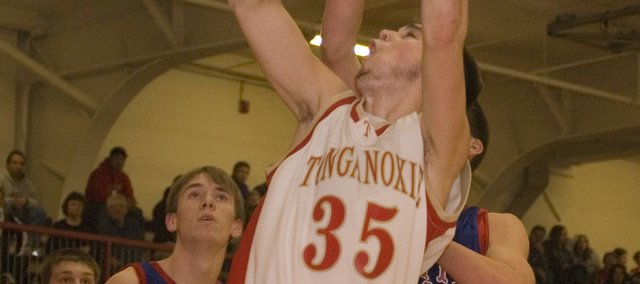 More often than not, a glance at a Tonganoxie High boys basketball box score shows Keaton Schaffer as the team's leading scorer. Such was the case on Friday when the junior's 23 points led the Chieftains in a 58-44 home victory against Santa Fe Trail.
But lately, Schaffer is getting more help from his teammates and taking it upon himself to get them involved.
Although no other Chieftains scored in double figures on Friday, THS did have all 10 players score for the second straight contest (the same happened Feb. 10 in an 83-62 win against Bonner Springs) and Schaffer dished out four assists.
Tonganoxie coach Shawn Phillips said Schaffer's point-guard mentality that appeared Friday was the manifestation of the versatile forward's practice play.
"There's times in practice when I have to tell him to shoot the ball because he's trying to be unselfish and share the basketball," Phillips said after his team improved to 10-6 overall and 6-3 in the Kaw Valley League.
Against SFT, Schaffer had his drive working, and once the Chargers defense turned its focus to him, he had no problem dishing to open teammates. Schaffer found Jamie Everett for a jumper, set up Brandon Yoder for a layup and hit Austin Smith and Justin Jacobs for inside baskets.
"They started coming at me and that left Jacobs wide open, Bill (Smith) wide open, Jamie wide open countless times," Schaffer said.
The junior forward is a fan of his frontcourt teammates — Smith scored nine, Yoder six, Everett four and Jacobs two against SFT after a huge night earlier in the week when Everett had 18, Smith went for 14, Jacobs chipped in eight and Yoder added six against Bonner Springs when Schaffer scored 17.
"Bill (Smith) grabs at least 20 rebounds every night," Schaffer exaggerated (although Smith came pretty close with 17 versus Bonner Springs). "Jacobs comes off the bench, plays his heart out. Yoder can hit a three … We have excellent, excellent post players."
While Phillips is a fan of Schaffer's passing, he said THS still needs him to score.
"We want him to share it but he is one of our better scorers so we want him to shoot the ball," the coach said.
Phillips said Schaffer could explode in spurts when he is driving to the basket and getting to the free-throw line, which he did in the 14-point victory, going 11-for-15 in the process. Schaffer scored 18 in the second half, and Phillips said it helped give THS some separation — Tonganoxie led, 24-19, at halftime.
"We needed a little offensive spark," Phillips said. "I didn't think our offense was very good in the first half."
Tonganoxie was only up seven late in the third when the Chargers' Corey Dahl scored a layup in transition, but the Chieftains closed the quarter on a 9-2 run that began when sophomore point guard Jeremy Carlisle hit a hanging layup. Yoder then hit two free throws before Anthony Perry also hit a pair for SFT. Schaffer later set up Yoder for a layup.
Schaffer got Tonganoxie's final points of the third after he was fouled on a three-point attempt and he drained all three charity shots.