Organization key to surviving holiday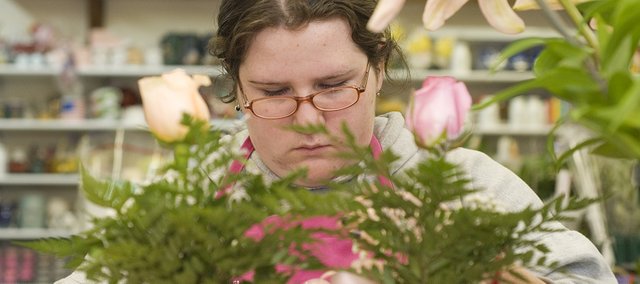 Equipped with a wireless telephone headset and armed with a sales order and pen, Gloria Reischman was more like a general than a florist Friday as she commanded her work force the day before Village Floral's biggest sale day of the year.
After two years of working out the bugs to maximize efficiency for Valentine's Day, the holiday was her busiest time of the year.
"Organization is what we strive for," Reischman said Thursday. "We worked really hard to get things to this point. The orders are coming in, but we're able to deal with people as they are coming in where before we would have orders that were backed up."
Because Valentine's Day fell on a weekend and because of the economy, Reischman said she wasn't sure how flower sales would have played out this year.
The National Retail Federation recently released a report that said average consumers spending was down $20.48 to $102.50 on gifts and merchandise for the holiday compared to last year.
To combat possible lower sales, Reischman had ordered 950 roses compared to the more than 1,000 roses she has previously ordered for the holiday.
On Friday, while Reischman was helping customers and answering phones, her employees, such as Michelle Docette and Linda Freeman, were busy in the back of the store making flower arrangements while others were driving around town making deliveries.
Reischman, who said she was too busy with work to make plans for Valentine's Day, said she was going to take a week off to recharge her batteries.