Tonganoxie basketball teams sweep Ward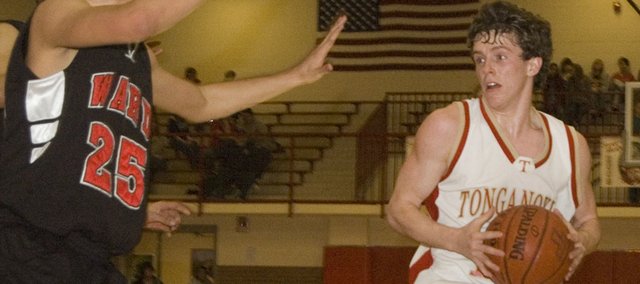 The Tonganoxie High boys basketball team held visiting Bishop Ward to a two-point, field-goal-less fourth quarter and picked up a 54-43 victory on Friday night.
Ward's C.J. Vallejo hit two free throws with 7:38 remaining to tie the game but those were the Cyclones' final points as the Chieftains (11-7) closed the game with an 11-0 run.
THS had the only basket of the fourth — inside from senior center Austin Smith to break a 43-all tie — but went 9-for-12 from the line.
In the deciding period, Jace Waters hit three of four, Smith was 1-for-2, Jamie Everett went 3-for-4 and Keaton Schaffer hit both of his free-throw attempts.
Schaffer led the Chieftains with 21 points, including a nine-point second quarter and an eight-point third. Smith chipped in 11.
THS will play host to Mill Valley on Tuesday.
Score by quarters
Bishop Ward 11 16 14 2 — 43
Tonganoxie 13 14 16 11 — 54
Tonganoxie scoring
Austin Smith 11, Jamie Everett 7, Keaton Schaffer 21, Brandon Yoder 5, Jeremy Carlisle 4, Jace Waters 6.
Tonganoxie girls 47, Bishop Ward 42
Up three points with 17 seconds remaining, Tonganoxie High senior forward Roni Grizzle grabbed an offensive rebound, drew a foul, went to the line and sank both of her free throws to seal a 47-42 victory against Bishop Ward.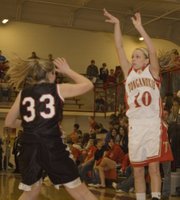 The freebies gave Grizzle seven fourth-quarter points and a game-high 19.
When the forward wasn't scoring in the paint or getting to the foul line, she was setting up the Chieftains' perimeter game. Grizzle assisted on all three of Tonganoxie's long-distance makes, hitting junior guard Andie Jeannin on two three-pointers and finding Lauren Hall for another.
THS (13-5) trailed briefly in the second quarter but Jeannin hit two free throws to cut Ward's lead to two and Grizzle tied the game at 21 with a steal and a layup. Junior forward Abby Eisman knocked down a jumper with 20 seconds left in the second quarter and Tonganoxie led the rest of the way.
Tonganoxie next plays host to Mill Valley on Tuesday.
Score by quarters
Bishop Ward 15 6 5 16 — 42
Tonganoxie 15 8 13 11 — 47
Tonganoxie scoring
Roni Grizzle 19, Andie Jeannin 12, Chrissie Jeannin 9, Abby Eisman 2, Lauren Hall 3, Danielle Miller 2.