Brock wins regional championship
Davis will join him at state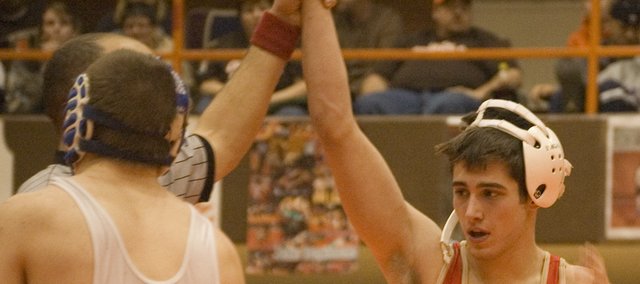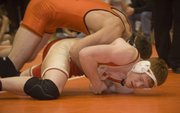 Abilene — Matt Brock won a Class 4A regional wrestling championship for the second straight year at Abilene High on Saturday.
With the first-place finish, the 140-pound Tonganoxie High junior qualified for the state tournament in Salina, where he will be joined by fellow Chieftains senior Steve Davis, who finished second in the 189-pound class at Abilene.
Brock defeated Hiawatha's Chris Atlakson by a 7-3 decision in the championship round.
Davis lost to Joel Marrs of Clay Center, the top-ranked 189-pounder in 4A, in his final.
The seniors were the only Chieftains to advance to state. As late as the semifinals of the consolation bracket, though, Tonganoxie still had five other wrestlers alive — and a spot in the consolation finals meant qualifying for state — but the Chieftains lost all five of those matches.
Freshman Adam Thomas (103) lost by a 6-3 decision, sophomore Tyler Hand (130) was pinned, senior Jon Harris (135) lost by a 9-4 decision, senior Kevin Hamm (145) fell, 7-1, and junior Jeremie Maus (171) lost by pinfall.
Thomas went 2-2 at his first regional, as did Hand and Harris. Hamm and Maus were both 3-2.
Brock finished the weekend 4-0 and Davis went 2-1.
Their victories, along with wins this weekend from freshman Caleb Himpel (119), Justin Crotty (125), Jeremy Elliott (160) and Jonas Myers (285), helped Tonganoxie finish fourth in the team standings at the regional with 93.5 points. Clay Center won the team title with 200.5 points.
Brock and Davis are headed to state for the second straight year. Brock placed fourth in 2008 as a junior and Davis didn't medal.
For much more from Abilene, pick up the Feb. 25 print edition of The Mirror.