Brock Star
Tonganoxie senior wins regional championship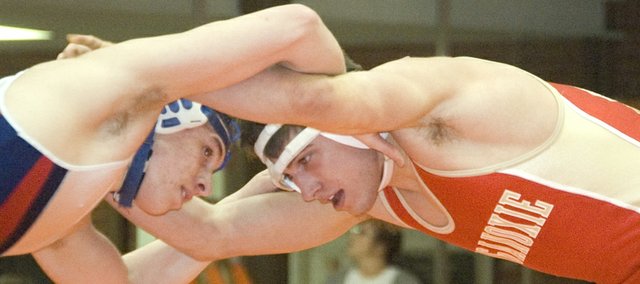 Photo Gallery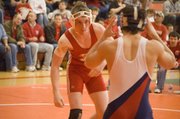 Tonganoxie High wrestlers compete at Abilene regional
Tonganoxie took 14 wrestlers to Abilene this past weekend for a Class 4A regional tournament. Although just two — 140-pound senior Matt Brock and 189-pound senior Steve Davis — survived and advanced to the state tournament, five other Chieftains were one win away but lost in the consolation semifinals.
Abilene — As a long, exciting day of Class 4A regional wrestling culminated with the championship round Saturday night at Abilene High School, most wrestlers went wild — yelling and pumping their fists with looks of joy mixed with disbelief on their faces — after defeating their opponents to become regional champions.
Not Matt Brock.
The Tonganoxie High senior finished a 4-0 weekend at the regional with a 7-3 victory against Hiawatha's Chris Atlakson without an ounce of celebratory theatrics. The 140-pounder seemed nonchalant in the aftermath because he expected to be in this position. Brock looked like he had been there before. And he had — the title was his second straight regional crown.
After finishing fourth at the state tournament as a junior, Brock has been looking forward to getting back to Salina as a senior and finishing even higher.
"I've got to do better than I did last year. My goal is third at least, I've got to do better than fourth," Brock said of his expectations for the 4A tournament in Salina, which begins on Friday.
The tough field at Abilene, which featured three of 4A's top six 140-pound grapplers, should prepare Brock well for a successful run at state, his coach, Jeremy Goebel, said.
"There's some kids that are going to be sitting at home next week that probably should be wrestling in the state tournament," Goebel said, referring to, among others, Kane Kelly of Abilene (No. 5 in 4A), who Brock defeated on Friday.
After wrestling tough all weekend and winning the Abilene regional, Goebel said, Brock should be confident that he can wrestle with anyone in the state.
"His goal is something that hasn't happened in Tongie," the coach said, "to be a state champion."
Davis runner-up at regional
Brock wasn't the only Chieftain to qualify for state. He will be joined in Salina by 189-pound senior Steve Davis, who lost to Joel Marrs of Clay Center, the top-ranked 189-pounder in 4A, in his championship match Saturday night.
Davis said there was no shame in finishing second at Abilene.
"The competition here is far greater than any other regional," Davis said. "You place here, you've got a better chance of placing at state."
Facing Marrs, who was second at state last year, in the regional title match, Goebel added, could prove beneficial for Davis.
"The nice thing is, we won't be on his side of the bracket at the state tournament," Goebel said. "So hopefully, we're going to end up wrestling him in the finals."
Davis, like Brock, is headed to state for the second straight year. He didn't medal as a junior.
After winning his two Friday matches to advance to the finals, Davis got to spend the bulk of his Saturday on the sidelines, cheering on his THS teammates. With a spot in the final and a state berth solidified, Davis said it was a much more relaxing day than his junior regional experience.
"Last year, I lost Friday, so I was worried the night before — I couldn't sleep," Davis said, adding that he was "freaking out" before his matches, thinking about the fact that if he lost, his season was over.
End of the road
Unfortunately for Tonganoxie, Davis and Brock saw the 2008-09 season come to an end for 12 of their teammates Saturday.
Chieftain grapplers started the day strong with an 8-2 record in the first round of consolation cross-bracketing, but as the day went on and matches became more difficult, more and more THS wrestlers were eliminated.
As late as the semifinals of the consolation bracket, though, Tonganoxie still had five wrestlers alive — and a spot in the consolation finals meant qualifying for state — but the Chieftains lost all five of those matches.
Freshman Adam Thomas (103) lost by a 6-3 decision, sophomore Tyler Hand (130) was pinned, senior Jon Harris (135) lost by a 9-4 decision, senior Kevin Hamm (145) fell, 7-1, and junior Jeremie Maus (171) lost by pinfall.
Watching Tonganoxie opponents have their hands raised, Goebel said, was difficult.
"You want the best for them," the coach said, noting he wished THS could have sent more wrestlers to state.
Goebel predicted the wrestlers who survived Abilene would be successful at Salina.
"Next week, when you look at the state champions and the state placers, you know what regional they're going to be coming out of," he said. "This is tough."
With victories in 24 matches, Tonganoxie scored 93.5 points (17.5 more than Concordia, ranked 10th in 4A) and finished fourth at the regional. Clay Center won the team title with 200.5 points.
Class 4A regional at Abilene
Team standings
1. Clay Center, 200.5
2. Abilene, 186.5
3. Jeff West, 122
4. Tonganoxie, 93.5
5. Chapman, 92
6. Smoky Valley, 82
7. Holton, 81
t-8. Concordia, 76
t-8. Hiawatha, 76
10. Perry-Lecompton, 74
11. Santa Fe Trail, 72.5
12. Royal Valley, 61.5
13. Wamego, 42
14. Atchison, 19
15. Topeka-Hayden, 9.5
Tonganoxie results
103 — Adam Thomas, 2-2
112 — Hunter Lohr, 0-2
119 — Caleb Himpel, 2-2
125 — Justin Crotty, 1-2
130 — Tyler Hand, 2-2
135 — Jon Harris, 2-2
140 — Matt Brock, 4-0, first
145 — Kevin Hamm, 3-2
152 — Shane Starcher, 0-2
160 — Jeremy Elliott, 2-2
171 — Jeremie Maus, 3-2
189 — Steve Davis, 2-1, second
215 — Austen Holloway, 0-2
289 — Jonas Myers, 1-2