Chieftain girls edge Mill Valley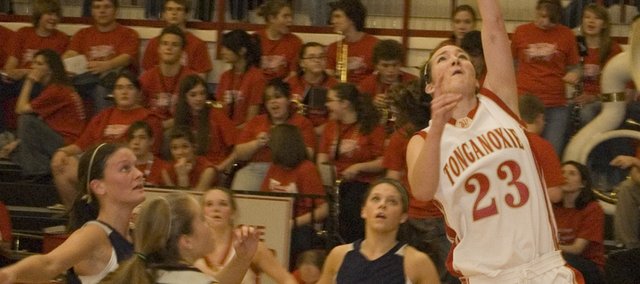 Even though the Mill Valley girls were without senior guard Becky Newhouse, the Jaguars gave the Chieftains all they could handle on Tuesday at Tonganoxie High.
Mill Valley led in the final two minutes but THS senior forward Roni Grizzle scored on a turnaround jumper with 51 seconds to go and sank both ends of a one-and-one with :18 remaining to lead Tonganoxie to a 60-56 victory.
Grizzle's free throws put Tonganoxie (14-5 overall, 9-3 Kaw Valley League) up three and the Jaguars (11-8, 10-2), after calling a timeout, went to the hot hand of sophomore guard Emily Altman to tie the game. However, Altman, who scored a game-high 27 points and had hit three three-pointers, was blocked by THS senior guard Chrissie Jeannin on her final attempt from downtown. Jeannin then recovered the block and was fouled. She hit her first free throw with four seconds left to seal the Tonganoxie win.
Although Altman was nearly unstoppable throughout the second half, scoring 19 points, Mill Valley couldn't stop the THS trio of Grizzle and the Jeannins — Chrissie and Andie. The three combined for 58 of Tonganoxie's 60 points as Grizzle and Chrissie Jeannin scored 20 apiece and Andie Jeannin added 18.
Whitney Hartman was Mill Valley's second best scorer with 12. She hit a number of pull-up jumpers in the second half and gave MVHS its final lead with a basket at the 2:06 mark.
Tonganoxie will play host to Piper on Friday for its final game of the regular season.
Score by quarters
Mill Valley 11 10 22 13 — 56
Tonganoxie 9 21 13 17 — 60
Mill Valley scoring
Whitney Hartman 12, Emily Altman 27, Erika Wheeler 7, Katie Maybell 6, Erin Graviette 2, Nicole Garretson 2.
Tonganoxie scoring
Andie Jeannin 18, Lauren Hall 2, Roni Grizzle 20, Chrissie Jeannin 20.