Chieftains' 'D' stymies Ward in 4th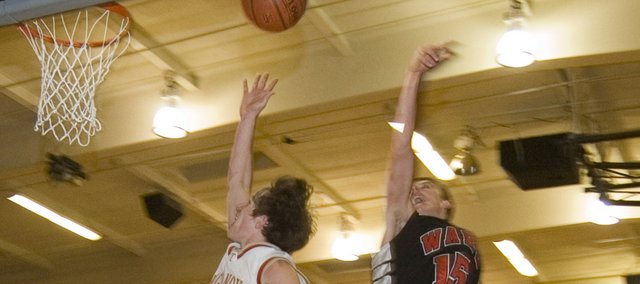 It's not often that a basketball team can hold its opponent without a field goal for an entire quarter, but that's exactly what the Tonganoxie High boys did on Friday to Bishop Ward.
The Chieftains secured a 54-43 victory after limiting the visiting Cyclones to a two-point, field-goal-less fourth quarter.
Needless to say, the effort pleased Tonganoxie coach Shawn Phillips.
"We've preached defense all year long but we've really tried to emphasize that if you want to be successful late in the season, into postseason, you have got to be able to defend," Phillips said, noting that the team's defense in the first half, too, was better than the score indicated because Ward made tough, contested shots.
"We had people in their face, they still hit them," he said.
The field goal drought actually lasted more than 11 minutes. Ward's C.J. Vallejo scored what proved to be his team's final bucket on a three-pointer with under four minutes remaining in the third quarter to put the Cyclones ahead, 41-37, before Tonganoxie (11-7 overall, 7-4 Kaw Valley League) ended the period on a 6-0 run.
Keaton Schaffer scored a transition layup off a pass from Jeremy Carlisle to cut the deficit to two and Brandon Yoder finished a lay-in to tie the game at 41. Carlisle later grabbed a defensive board and went coast-to-coast for a score with 1:17 to go in the third to give THS a lead.
Ward's only points of the fourth quarter came when Vallejo hit a pair of free throws to tie the game at the 7:38 mark. Then the Chieftains ended the game on an 11-0 run thanks to the defense shutting down Vallejo, who had 18 points through three quarters, and his teammates, notably Robert Grindstaff (defended by Carlisle) and Thomas Richmond, a 6-foot-10 center kept in check by Tonganoxie's pivot, Austin Smith.
THS had the only basket of the fourth quarter — inside from senior center Smith to break a 43-all tie — but went 9-for-12 from the line.
"We didn't score a lot in the fourth quarter either," said junior forward Keaton Schaffer. "I think both teams gave it their all for three quarters and there just wasn't barely enough gas left."
In the deciding period, senior guard Jace Waters hit three of four free throws, Smith was 1-for-2, senior forward Jamie Everett went 3-for-4 and Schaffer hit both of his free-throw attempts.
"The free-throw situation probably reflects what we were trying to do," Phillips said, explaining that the Chieftains wanted to attack the paint, which gave them opportunities to get fouled or have high-percentage shots.
Schaffer led the Chieftains with 21 points, including nine in the second quarter and eight in the third. Smith chipped in 11.
Defensively, Smith said the entire team stepped up in the fourth quarter. He said Schaffer kept Vallejo in check, players were calling out picks and the help-side defense was there.
"Everybody on the team was playing defense and then things just fall into place," Smith said. "Boxing out is really big, too."
With such a strong defensive effort, Phillips was searching for critiques.
"We only gave up two points. Maybe I should be after somebody for fouling," he joked. "Two points, you can't do much better than that."