Chieftains finding ways to win tight games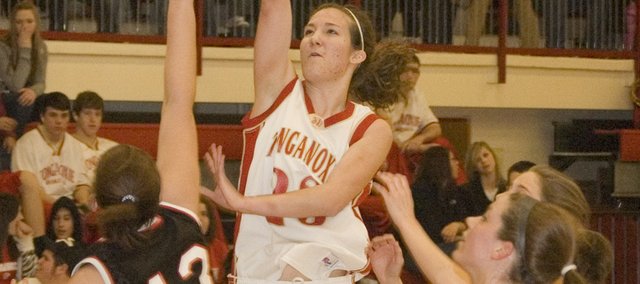 With a 47-42 victory Friday against visiting Bishop Ward, it appears the Tonganoxie High girls basketball team is plenty comfortable in close contests.
The five-point victory was just the latest close call for the Chieftains in a season that has seen six contests decided by seven points or less with THS (13-5 overall, 8-3 Kaw Valley League) a perfect 6-0 in those games.
So are these narrow margins too close for comfort?
"It's definitely too close for me," Tonganoxie coach Randy Kraft said with a laugh after a 10-point fourth-quarter lead was cut to a one-possession advantage in the game's final minute.
Up three points with 17 seconds remaining, Chieftains senior forward Roni Grizzle grabbed an offensive rebound, drew a foul, went to the line and sank both of her free throws to seal the victory.
Grizzle, who scored seven in the fourth to finish with a game-high 19 points, said the close wins of late — by two at Santa Fe Trail, by one when the Chargers came to THS and the home victory against Ward — are the result of Tonganoxie reacting to other teams instead of being proactive.
"I think that makes the games close," she said. "We let them stick around."
Kraft told his players he didn't know if they liked playing close games but said it would be nice if their narrow wins prepare them better for sub-state games, which begin next week.
"They shouldn't be too nervous," Kraft said of potentially tight postseason affairs, "but I'd rather not play so many of them that close."
Senior THS point guard Chrissie Jeannin, who scored nine points, said she also would like to avoid tense late minutes of undecided games.
"Close wins are always good," she said, "but sometimes you need to have a little bit more of a stronger finish."
The Chieftains might have had some late-minute breathing room if they had gotten off to a better start on the defensive end of the floor.
"We didn't really play defense in that first quarter," Kraft cracked.
Tonganoxie trailed early, 12-5, before closing the first quarter on a 10-2 run with five points from Andie Jeannin, three from Chrissie Jeannin and two from Grizzle. But some defensive struggles resurfaced in the second quarter, when Ward led, 21-17. Kraft got on his team for giving up so many points so soon and THS responded by closing the quarter on a 6-0 run — Andie Jeannin hit two free throws, Grizzle tied the game at 21 with a steal and a layup and junior forward Abby Eisman knocked down a jumper with 20 seconds left — to take a two-point lead into halftime. The defense picked up in the third quarter, when THS held Ward to five points.
The Chieftains were able to escape with a win thanks to solid outings from its top three scorers, Grizzle and Chrissie and Andie Jeannin, who combined for 40 points. But Chrissie said they could always use some help.
"We need to have more people step up and play and start scoring for us so it's not just us three scoring all the time," she said.
Season almost over
Tonganoxie closes its regular season Friday at home against Piper, a team THS has played twice this season. Although the Chieftains knocked off the Pirates at the Eudora Invitational, when Tonganoxie traveled in January to Piper, the team had its worst outing of the season, losing 48-20. Kraft said he hopes the team will have extra motivation because of that outcome.
"We beat them once, and then to let them do what they did to us is not a good feeling," he said, adding he hopes the Chieftains can return the favor at home.