Patient Puhr signs with University of Saint Mary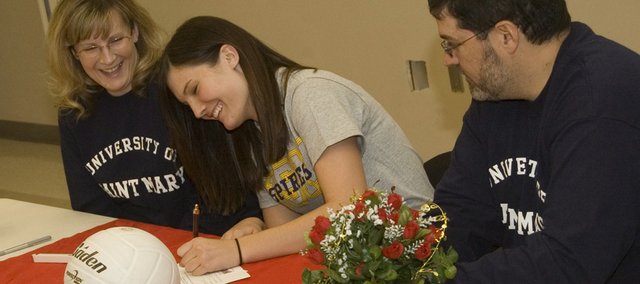 For the bulk of her prep volleyball career, Megan Puhr spent her time in the waiting room that was the Tonganoxie High junior varsity team.
With two all-state hitters playing in front of her, she could have become impatient or worse — angry.
Instead she kept playing and improving and even though she only got one year — her senior campaign — to star for the Chieftains, Puhr made the most of it. She had a strong enough showing as a one-year wonder to garner a scholarship to play volleyball at the University of Saint Mary, the program with which she signed on Thursday.
Puhr said her patience paid off.
"I knew it would take time, but I knew it would come," she said after signing with USM.
Tonganoxie co-coaches Brandon and Tiffany Parker showed confidence in Puhr and told her she would get a chance. Brandon Parker said Puhr trusted her coaches and showed the right attitude while toiling on the JV team and only playing sparingly in a couple of varsity games her junior year.
"Megan never pouted, Megan never threw a fit, Megan never tried less than her best," Parker said.
Once it was her turn — even though it was just a year — Puhr had an impactful season as the Chieftains finished 26-15 a season after losing eight players to graduation.
"She came in and made the most of her one year," Parker said.
Puhr said she was proud of what Tonganoxie was able to accomplish in 2008.
"This year was kind of supposed to be a rebuilding year for us but I think we kind of proved people wrong," she said. "Hopefully, it will keep going next year and just keep getting better and better."
THS currently has five volleyball players competing at the college level. Ten have gone on to play collegiately since the Parkers took over the program in 2001. Puhr will be the first of the Parker regime to play for USM in nearby Leavenworth.
"It's just exciting to know that high school volleyball is over but I'm going on to something else and I get to keep playing and keep doing what I want to do," Puhr said.