Prep careers over for seniors Hamm, Harris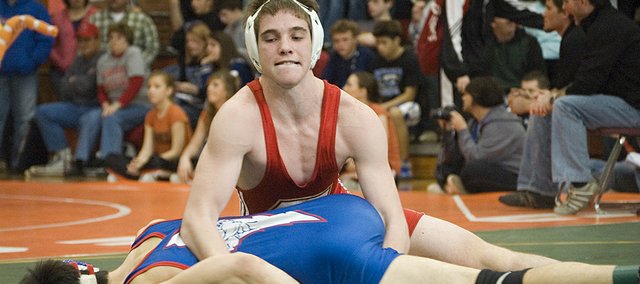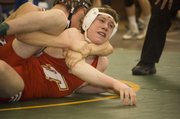 Photo Gallery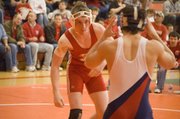 Tonganoxie High wrestlers compete at Abilene regional
Tonganoxie took 14 wrestlers to Abilene this past weekend for a Class 4A regional tournament. Although just two — 140-pound senior Matt Brock and 189-pound senior Steve Davis — survived and advanced to the state tournament, five other Chieftains were one win away but lost in the consolation semifinals.
Abilene — The Tonganoxie High wrestling team went to its Class 4A regional tournament hoping to use the weekend as a stepping stone to state, but the hopes of most Chieftain wrestlers — including seniors Kevin Hamm and Jon Harris — sank against an ultra-competitive field.
While some THS wrestlers will live to grapple again (seniors Matt Brock and Steve Davis qualified for state while 10 others still have eligibility remaining), Hamm and Harris had their prep careers come to an end a week earlier than they had planned. Both seniors advanced to the consolation bracket semifinals — one victory shy of state qualification — before losing their final matches as Chieftains. It was hard for their teammates to watch.
"It was heartbreaking," Davis said minutes after finishing second in his bracket. "We work our tails off in practice every day, and just to see that, your friends and teammates not make it, it's tough."
Despite ending the season on a sour note, both Hamm (145 pounds) and Harris (135) did their best to find positives to take away from their last tournament. Harris had a 2-2 record for the weekend, making it to a semifinal and a consolation semi.
"I think it's the best I've ever performed," Harris said before his focus turned back to his finish. "It's really tough being a senior and going out there and not making state."
Hamm, too, tried to put on a happy face, saying that even though he was in a competitive regional (Abilene's Quinton Wuthnow — the top-ranked 145-pounder in 4A and the regional's eventual champ — defeated Hamm on Friday), he wouldn't have it any other way.
"Every regional's tough. In certain weight classes it might be a lot tougher but it's always going to be tough," Hamm said. "I'd rather go to state placing in a hard regional."
Hamm finished the weekend 3-2 and pinned Santa Fe Trail's Ethan Anno, who had beaten Hamm every other time they met this season, but his last loss hit him hard. Brock also was affected by the result.
"Kevin was the one who actually introduced me to wrestling," Brock said. "He was the one that first got it started so it was sad to see Kevin not make it to state."
Last season, Hamm, then a 119-pounder, was one of six Chieftains, including Brock and Davis, to go to state. Naturally, Hamm wanted to return with them in 2009. Asked what he thought of his fellow seniors' success, Hamm was candid.
"I'm jealous," he said with a smile. "They earned it though."
At Salina, Brock and Davis could be faced with the same feelings that loomed over Harris and Hamm on Saturday. Namely, that each match could be their last. As a senior, Harris said the win-or-go-home scenario was omnipresent.
"The pressure's always on you," he said. "I was thinking about it the whole time."
Harris said he was more nervous at the regional than he had ever been before and said a lot of that had to do with the downtime.
"When your fellow wrestlers win, you get so pumped," he said.
As hyped as Harris would get seeing the success of his teammates early on Saturday, he lost that juice waiting around for his match (Harris had to wait through three consolation rounds before taking the mat). Then he had a new sensation — butterflies in his stomach.
"You get nervous," he said. "You want to get out there and wrestle."
For Hamm, all nerves and thoughts of the end vanished during his matches.
"Once you're on the mat and you're competing, you don't really think about it," he opined. "Afterwards, yeah, it hits you like a ton of bricks. I wouldn't wish it on anyone. I wish I was a freshman again."
THS coach Jeremy Goebel said it was difficult for him to see Hamm and Harris eliminated.
"It's hard. Those kids have invested a lot of time," the coach said. "They've contributed a lot to this cause, to our team, and for the last four years."
Ultimately, Goebel said he was proud of their efforts because they gave it their all.
"As a coach, do you still want them to be wrestling? Yeah," he said. "They can be proud of themselves and proud of what they represent."