Sub-state contests begin Monday for Tonganoxie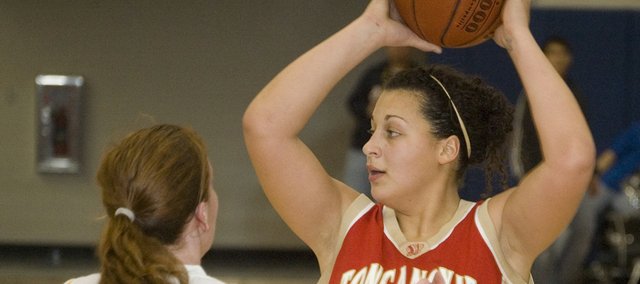 The calendar flips from February to March this weekend, and when it does, the regular season for high school basketball will be over, and the postseason soon will begin.
Tonganoxie High is sending its boys and girls teams March 2-7 to Perry-Lecompton for one of eight Class 4A sub-state tournaments.
The Chieftains will be joined at sub-state by Atchison, Basehor-Linwood, Hiawatha, Holton, Jeff West, Perry-Lecompton and Royal Valley.
The Tonganoxie girls are 2-1 versus the field with a pair of wins against Perry-Lecompton and a 51-36 loss at Basehor-Linwood this season. THS coach Randy Kraft said the team's sub-state draw could prove to be difficult.
"Holton's going to be really tough to beat," the coach said of the team that ended the Chieftains' season in a sub-state final last season at Holton. "They went to state last year and several of those kids are returning."
Kraft said Holton (20-0) always seems to go 10 deep and this year isn't much different.
"I've seen them and they just wear people down because they're a great defensive team," he said.
If Tonganoxie again matches up with the Wildcats, the Chieftains could have trouble.
"We don't have the bench they have," Kraft said, noting THS would have to play a slower-paced game with Holton, the team he considers the favorite in the girls bracket.
Basehor-Linwood, another top girls team at Tonganoxie's sub-state, played Holton close for three quarters before losing, 63-56, in late January.
Kraft said Jeff West could be another team to watch out for. Although the Tigers are 12-6 and finished just fifth at the Tonganoxie Invitational in January, they have won eight of their last 10 contests.
"Possibly, we could drop to the four seed if they keep winning and we happen to drop one," Kraft said.
That would put THS in a difficult position — facing a five seed and then, likely, the bracket's probable No. 1, Holton.
Boys 1-2 vs. field
The THS boys, too, have faced only two of their possible sub-state foes, Perry-Lecompton and Basehor-Linwood. The Chieftains are 1-2 in those games with a home win against PLHS and road losses at Basehor and Perry.
Coach Shawn Phillips said the bracket's probable one seed, the Bobcats, would be tough to knock out.
"Basehor's the favorite," Phillips opined.
But that doesn't mean his team will enter the state-qualifying tournament conceding the crown to BLHS.
"Just about every publication that I've seen or person that you ask says Basehor's going to be the team that comes out of it but I think on any given night — if we play well — we can beat any team out there," Phillips said.
"It definitely won't be easy," he added. "We'll have to earn it."
Tonganoxie lost at Basehor-Linwood, 81-59, in the regular season but Phillips said the Chieftains aren't thinking revenge at this point.
"We'd like to have another shot if the opportunity presented itself but … there's not a bull's eye on Basehor where we really, really need it," he said. "I don't care who we play. We want to play whoever we get."
And, Phillips added, the Chieftains want to do something that the program hasn't accomplished in some time.
"It's been 25 years since Tonganoxie's been to state and we feel like we've got a chance to maybe end that streak," he said, stressing it will take hard work to do so.
Sub-state brackets will be released Wednesday. Visit The Mirror online to find out when and against whom the Chieftains will be playing.