Tonganoxie boys nipped by Jags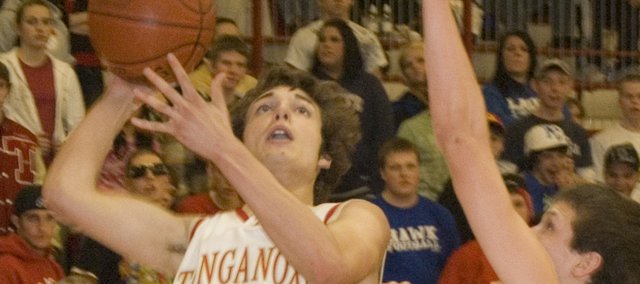 A tightly contested Kaw Valley League game ended in dramatic fashion at Tonganoxie High on Tuesday as Mill Valley escaped with a 65-63 win over the Chieftains.
Jaguars sophomore Jonathan Anaekwe drove the lane, elevated and avoided the outstretched arm of Tonganoxie senior center Austin Smith to score a layup and give MVHS a 64-62 lead with 28 seconds left.
THS sophomore point guard Jeremy Carlisle immediately pushed the ball up the floor and drew a foul seven seconds later while heading for the rim for a potential tying lay-in. Carlisle hit his first free throw but couldn't tie the game with a second make.
Mill Valley's Max Carroll grabbed the defensive rebound and eventually the ball ended up in the hands of Tanner Rainbolt, who led the Jaguars with 21 points, and he was fouled. At the line with 15 ticks left, Rainbolt missed his first free throw and cashed his second, leaving Tonganoxie a chance to tie the game or take the lead on its final possession.
After advancing the ball up the floor, THS took a timeout with six seconds left and set up an inbound play on the right sideline. Tonganoxie junior Brandon Yoder threw a lob toward the left block to Keaton Schaffer, who gathered the ball, dribbled back up the lane and hoisted a 10-foot fall-away jumper that missed long. Yoder crashed the glass for a tip-in that just missed sending the game to overtime at the buzzer.
Tonganoxie led by three entering the fourth but failed to score a basket in the final five minutes. Schaffer, who scored 21 points, went coast to coast for a layup that put THS up four inside six minutes but the Jaguars closed the game on an 11-5 run during which Rainbolt drained a three from five feet beyond the arc and scored six of his 10 fourth-quarter points.
Smith scored 15 for Tonganoxie and Carlisle chipped in 12.
Carroll had 16 points for MVHS and Anaekwe finished with 12 despite missing a chunk of the third quarter after getting hit in the face while battling inside.
Tonganoxie (11-8 overall, 7-5 KVL) has its final regular-season contest on Friday when the Chieftains play host to Piper.
Score by quarters
Mill Valley 15 16 17 17 — 65
Tonganoxie 14 17 20 12 — 63
Mill Valley scoring
Max Carroll 16, Jonathan Anaekwe 12, Kellen Kinnamon 10, Tanner Rainbolt 21, Sterling Roaf 2, Kyle Powers 2, Taylor Reinoehl 2.
Tonganoxie scoring
Austin Smith 15, Brandon Yoder 1, Jeremy Carlisle 12, Keaton Schaffer 21, Rob Schlicht 2, Jamie Everett 8, Dylan Scates 2, Justin Jacobs 2.