Grass fires hit area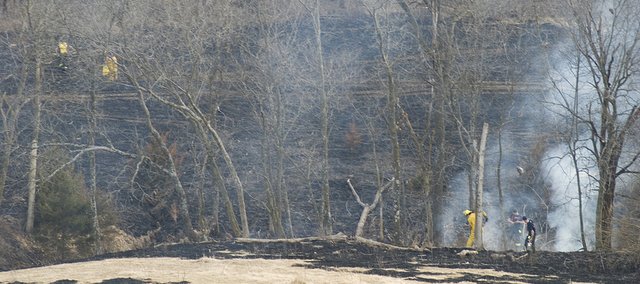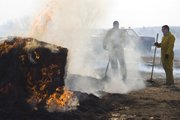 Dry and warm conditions were causing big problems for area firefighters Wednesday, Feb. 25.
The emergency crews were called out to several grass fires around Tonganoxie.
"The temperature is getting nicer so people are getting outside and starting to clear out their yard," said Chuck Magaha, Leavenworth County emergency management director, said.
The fires were in the 23300 block of Garrett Road, 234th St. and Honeycreek Road, U.S. Highway 24-40 near mile marker 204 and Stranger Township near Interstate 70.
Magaha, along with firefighters from the Tonganoxie Township, Reno Township, Stranger Township and Tonganoxie City fire departments, spent part of the day assisting firefighters in the day's biggest fire on Honeycreek Road.
Magaha filed a report with the Kansas Forest Service stating that the fire spread across 300 acres land belonging to Florence Somers' and her neighbors.
Somers said the fire started when a permitted burn got out of control. She said the fire spread quickly and was soon getting into the woods on the property.
Firefighters were on the scene extinguishing the fires until around 6:30 p.m.
Pumper trucks were not able to access all of the area, so firefighters were taken to the fire on all terrain vehicles and had to use portable backpacks with water sprayers to put out the fire.
Magaha said many of these fires can be avoided if the proper steps are taken before the burn, but some people don't take precautions.
"They don't listen to the weather. They don't plan on the weather, they don't have enough manpower and they don't have the proper equipment," he said.
Property owners planning a burn need more than just a garden hose, but an adequate water supply, backpack sprayers, rakes and shovels are necessary to keep the fire from spreading, Magaha said.
He also said it is recommended that grass around the area of the burn be kept short and any drier and more flammable grasses or brush be kept at a distance from the fire.
Before any burning is allowed, property owners must acquire a burn permit. Permits can be obtained from the Tonganoxie City Fire Department for Tonganoxie residents and Leavenworth County residents can get their permits through the Sheriff's Office.
Magaha said anyone caught with an illegal burn can face a class A misdemeanor, plus a $1,000 fine and reimbursement for putting out the fire.
Grassfire season will last through the middle of April. Magaha said March is usually when most grassfires take place.
A link to the National Weather Service's Rangeland Fire Danger Forecast can also be found at the county's Emergency Management and Homeland Security Web site at http://www.leavenworthcounty.org/eoc/links.asp.