Chieftains split with Piper on Senior Night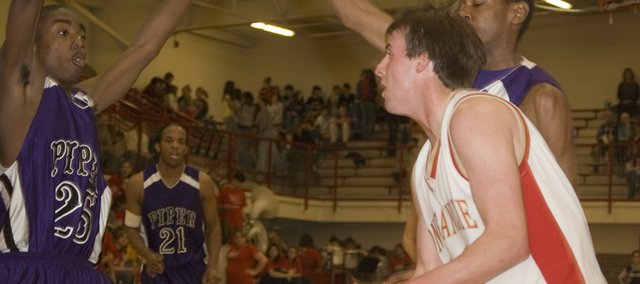 Nursing a two-point lead with a minute remaining in the fourth quarter, the Tonganoxie High boys held on for a 65-54 victory over Piper at home on Friday.
The Chieftains got their final points of Senior Night with :49 remaining when a pair of seniors found a gaping hole in the Piper defense. THS guard Jace Waters, under pressure on the left wing, found center Austin Smith cutting backdoor and hit him in stride for an uncontested layup that put Tonganoxie ahead, 65-61.
But the Pirates responded immediately with a three-pointer from the left corner by Russell Loomis that cut the THS lead to one with 39 seconds to go.
Tonganoxie then turned the ball over with :17 remaining, giving Piper another chance. After missing a shot with five seconds left, the ball was knocked out of bounds off of THS, and Piper set up an inbound play with :02 to go.
The Pirates, though, never got a shot off as sophomore THS guard Jeremy Carlisle deflected the inbound pass.
Carlisle's offense, especially in the second quarter, when he hit a pair of threes and scored 10 of his 19 points, helped Tonganoxie improve to 12-8 on the season. Against a lot of trapping and pressure, he often broke down Piper defenders and found layups for himself or his THS teammates.
Tonganoxie seniors Smith and Jamie Everett also were crucial in the victory. Everett scored 12 points, mostly by beating Piper big men down the floor, and Smith dominated the interior with 13 points and 17 rebounds.
Junior forward Keaton Schaffer, usually Tonganoxie's leading scorer, chipped in 10 points.
The Chieftains are back at home on Monday night at 7 p.m. when they play host to Atchison (3-16) in the first round of their sub-state bracket.
Score by quarters
Piper 16 14 11 23 — 64
Tonganoxie 20 20 10 15 — 65
Tonganoxie scoring
Jamie Everett 12, Austin Smith 13, Jace Waters 3, Jeremy Carlisle 19, Keaton Schaffer 10, Rob Schlict 2, Brandon Yoder 4, Justin Jacobs 2.
Piper 54, Tonganoxie girls 36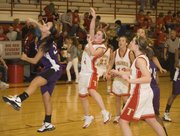 Senior Night was kind of a bummer for the Tonganoxie High girls on Friday as they lost their final game of the regular season to Piper, 54-36.
The Chieftains' lone seniors — point guard Chrissie Jeannin and forward Roni Grizzle — were the only players for THS (14-6) to score in double figures. Jeannin had 12 and Grizzle, who has been battling illness all week, added 10.
After opening the game in an 11-0 hole, THS guard Lauren Hall was the first Chieftain to score at the 2:11 mark of the first quarter when she drained a three.
Tonganoxie gradually chipped away at the Pirates' lead and cut it to three points early in the third quarter when, first, Andie Jeannin hit a three on an inbound play and, later, Grizzle converted two free throws with 5:58 to go in the period, making the score 25-22 in Piper's favor.
However, the Pirates responded with an 11-0 run and the Chieftains couldn't get back in striking distance.
Tonganoxie's postseason begins on Tuesday at 6 p.m. when the Chieftains play host to Hiawatha (6-14) in the first round of their Class 4A sub-state tournament.
Score by quarters
Piper 13 12 15 14 — 54
Tonganoxie 6 11 9 10 — 36