Tonganoxie City Council meeting set for Monday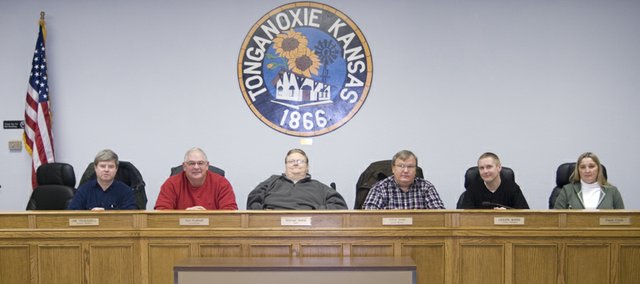 I. Open Meeting – 7 p.m.
II. Consent Agenda - (Routine & Customary Items)
a. Approval of Minutes –
1. Special Meeting dated December 8, 2008
2. Regular Meeting dated December 15, 2008
b. Consider Approval of Bills – Final Pay Ordinance 2008, A-1598
c. Consider Approval of Bills – First Pay Ordinance 2009, A – 1599
(Will be available on Monday)
d. Consider final pay request #12 in the amount of $15,458.90 for work at the new Public Works Facility.
e. Consider approval of renewal of Cereal Malt Beverage licenses for G & P Country Mart, HoP. LLC d/b/a Daniels Bar-B-Q and Corky's
f. Consider Pay Request #3 from Kings Construction in the amount of $60,545.70 to be paid from the ball field construction loan.
III. Open Agenda
"Members of the public are welcome to use this time to comment about any matter relating to City business. The comments that are discussed under Open Agenda may or may not be acted upon by the Council during this meeting. Please wait to be recognized by the Mayor, then state your name and address and all comments are to be directed to the chair."
IV. New Business
a. City Engineer Brian Kingsley
1) Consider approval of engineering expense for staking the East Street right of way from Fourth to Seventh streets
2) Consider approval of addendum #1 to the design engineering contract from East Street Improvements
b. Home Remodeling Loan Program
c. City Administrator Agenda
1) Federal Economic Stimulus Program
2) Consider approval of step increases for eligible employees
d. City Attorney Agenda
e. Mayor's Agenda
f. Council President Agenda
g. City Council Agenda
V. Adjourn
VI. Information & Communications (No Action Required)
a. 2009 LCDC and LCPA Meeting Schedule
b. Tonganoxie Recreation Commission January 2009 Newsletter
c. Letter to Mr. Bobby Gabriel, Jr. from City Administrator
d. Kansas Municipal Utilities 2009 Legislative Forecast
e. Kansas Municipal Utilities 2008 Year in Review
f. PWWSD #6 misread meter
g. 2008 Water Purchased and Sold
h. November 2008 Budget Report
i. MLA Advanced Municipal Finance course
j. Library Director's Report for November 2008
k. LCDC 2008 Annual Report