24-40/K-7 interchange behind schedule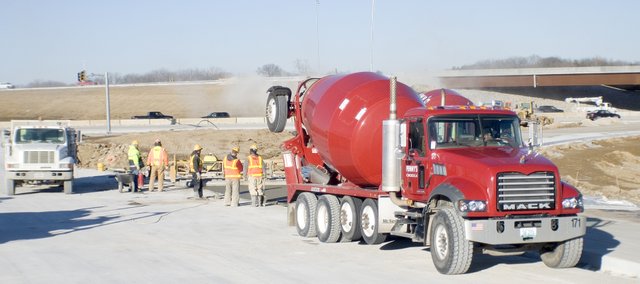 Commuters waiting for the construction along U.S. Highway 24-40 and Kansas Highway 7 to finish will have to wait until the end of February before crews start removing any cones or barricades.
Kimberly Qualls, a Kansas Department of Transportation spokeswoman, said the project had been delayed because of "weather and other contractor-related scheduling issues, including work carried over from the 2007 construction season."
The old cloverleaf interchange was scheduled to be replaced with a new partial cloverleaf or folded diamond interchange by winter 2008. Auxiliary lanes on K-7 and U.S. 24-40 were also part of the construction plan.
The lane addition will provide traffic with acceleration and deceleration lanes for the new interchange on- and off-ramps.
Qualls said, weather permitting, the project should be completed before March with the exception of some landscaping work and final touches.
She said the cost of the project also had increased since it began in March.
The original project was estimated at $35.7 million. Since the start of the project, the cost has gone up to $37.7 million.
Qualls said liquidated damages currently were being assessed on APAC Kansas, Inc., the projects primary contractor, as a result of ongoing construction work that has now extended beyond the scheduled project completion date.
She said the damages are being assessed starting from Nov. 15, 2008, at $10,000 per day excluding Sundays and holidays.
KDOT official Mike Johnson said crews don't typically work on Sundays, but they have been working on Sundays if the weather is nice so the project can be completed by the new anticipated completion date.
Qualls said there is still some construction needed for concrete pavement and concrete barrier, installation of traffic attenuators and signing, removal of temporary striping and placement of permanent striping, and removal of temporary asphalt crossover pavement.