Hamming it up
Wrestling senior Hamm packs on pounds, moves up in weight class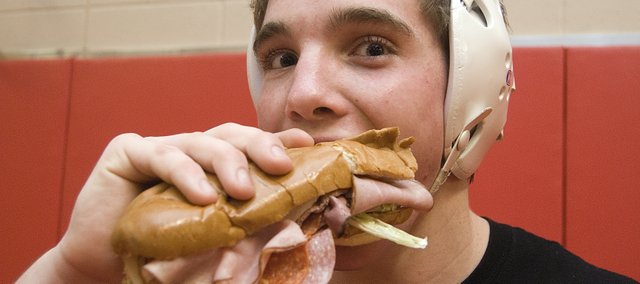 This time last year, Kevin Hamm didn't have much beef on him.
Then a junior wrestler at Tonganoxie High, the 119-pounder obsessed over his diet. He couldn't slack off with a juicy cheeseburger or a loaded slice of pizza. It was all miniscule portions of the healthiest foods imaginable — whatever it took to maintain his wrestling weight.
That all changed once his season came to an end in February at the Class 4A state wrestling tournament. Hamm and Steve Davis had been eliminated at the first day of the tourney, and the two decided to clash in another format — an eat-off.
"We had a competition to see who could gain the most weight," Hamm said of the ensuing gorgefest. "I gained probably like 10 pounds in 12 hours, he gained probably like 15, 20 pounds. It was amazing."
Now a senior at THS, and weighing in at 145 pounds, Hamm no longer looks rail thin. He decided heading into his senior year he wasn't going to cut as much weight during his final season as a Chieftain.
"I was just kind of eating whatever, whenever," he said of his diet during the summer, noting he consumed a lot of protein to gain muscle mass. "I knew I was going to try and get bigger, but it just kind of happened."
Eating wasn't Hamm's only off-season practice. He also worked out as many as four times a week with fellow seniors Davis and Matt Brock, and, at the same time, hit a growth spurt. Before he knew it, his new wrestling weight class ended up, naturally, at 145.
"Once I started eating, I started growing again," Hamm said.
THS wrestling coach Jeremy Goebel wasn't surprised by Hamm's physical transformation. Goebel had figured genetics — Hamm's father, also named Kevin, stands about 6-foot-2 — would make Hamm a bigger grappler eventually and the coach said he grew out of the lower weight classes with off-season work.
"There's no way he could be down there anymore. He's too big of a kid; his whole frame has changed," Goebel said. "He's put in the time in the weight room and the wrestling room."
Hamm still monitors his food intake, he just no longer scrutinizes over it. If he's a pound or two over, he just eats a little less the day before a weigh-in or goes to the wrestling room to jump rope and run for 45 minutes or so. During the winter break, Hamm admitted to some "splurging" but for the most part he just eats smart portions of healthy food, avoids soda and drinks a lot of water. His most common meals are a bagel in the morning and whatever the THS cafeteria has on the menu at lunch.
And his diet isn't the only thing different about being 26 pounds heavier. Competing at 145 pounds, Hamm said, is a far cry from 119.
"In the smaller weight classes, it's a lot of technique and speed and quickness. Now (at 145), it's a lot of locking up, a lot of strength, power moves — it's completely different," Hamm said.
But his lightweight experience has proved helpful.
"I don't rely on my strength quite as much as all the other wrestlers do," Hamm said, noting that opponents try to muscle him around and he uses that against them by countering it. "I'm more aware as a wrestler."
He also has a better winning percentage at 145 than he did as a junior. To date, Hamm is 12-6 (.667) as a senior after going 27-17 (.614) at 119 pounds.
Brock, a 140-pounder, expects Hamm's success to continue.
"He's used to wrestling in the smaller weight classes, but the smaller kids are just fast," Brock said. "Now he's in the middle weights, where it's strength and quickness together. He's a lot stronger, so I think he'll be a lot better than last year."
Goebel said Hamm, now stronger than he's ever been, has done a better job this year of scoring first with takedowns.
"He runs the half real well from top," the coach said of the senior's biggest strength as a wrestler.
He can eat with the best of them, too.