Chieftains 'prove it' on hardwood
Tonganoxie improves to 2-0 in
KVL

with road victory at Bishop Ward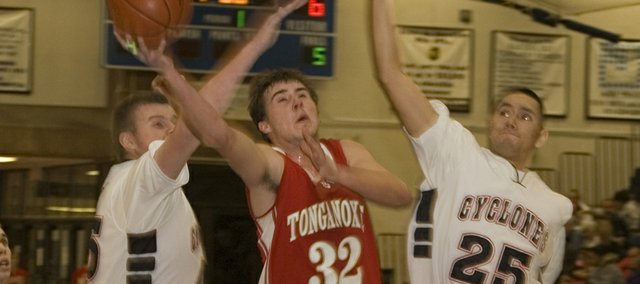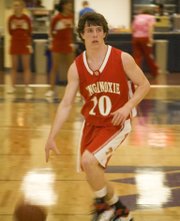 Kansas City, Kan. — Before the season started, nobody had a reason to give a second thought to the Tonganoxie High boys basketball team. Coming off a 6-15 campaign in 2007-2008, the Chieftains knew they would have to earn their opponents' respect on the hardwood this year.
They took another leap toward doing that and being considered one of the top-tier teams in the Kaw Valley League on Friday with a 61-47 win at Bishop Ward.
First-year THS coach Shawn Phillips said the Chieftains are eager to earn a spot as one of the best teams in the KVL.
"Something we've really talked about this year is the idea of: Prove it," Phillips said. "The only way you earn respect is by proving it, and for us to be a top, quality basketball team and a respected basketball team, it has to be earned — nothing's given to us."
Tonganoxie took two wins from KVL foes (Perry-Lecompton and Ward) this past week and improved to 3-2 on the year.
Junior forward Keaton Schaffer, who scored 19 points in the victory at Ward, said it was crucial for THS to get off to a good start in KVL play with a 2-0 mark.
"Perry's one of the top teams in our league; Bishop Ward's not at the bottom," Schaffer said. "I think it's huge momentum for us."
The junior gave his team a boost in the third quarter when, after scoring just two points on free throws in the first half, Schaffer scored 14 points. He hit three treys, the first of which he was fouled on, giving him a rare four-point play.
"That sparked everything," Schaffer said of drawing contact while draining the long-range bomb and hitting the ensuing freebie, helping THS to a 35-30 lead.
Tonganoxie outscored Ward 22-8 in the third quarter, and by the time the period ended, the lead had ballooned to 18. It never dropped below 11 in the fourth quarter.
Schaffer wasn't the only Chieftain producing at Ward. All eight players who took the floor contributed by playing tough, confident basketball. Senior center Austin Smith was an interior aggressor for THS, scoring 15 points and grabbing 13 boards while battling Ward's 6-foot-10 center, Thomas Richmond. Senior guard Jace Waters hit a pair of three-pointers and senior guard Rob Schlicht came off the bench to score six points and grab seven rebounds. Phillips said he is happy to have a roster of players that can contribute.
"One thing that's great about this team is there's always someone who's going to step up every single night," Phillips said. "We are not a one-man show or just a couple of guys, we have had people do big things in every game so far this year."
Schlicht said he and the team's other substitutes know their roles.
"We have to have people who can come off the bench, and some people who don't always score gotta put in their dues," he said.
The senior guard said part of the team's success comes from its chemistry.
"We really have fun at practice and on the bus," Schlicht said. "Coach just allows us to have fun with each other and we know when it's time to get serious and we stay strong together because of that."