Difficult win provides basketball lessons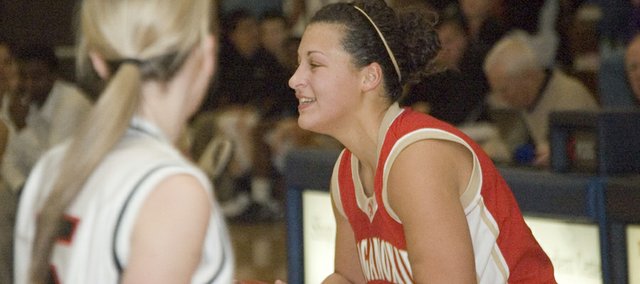 Kansas City, Kan. — Even though the Chieftains escaped with a 48-46 victory Friday in Kansas City, Kan., against Bishop Ward, the Tonganoxie High girls basketball team got schooled.
It wasn't that the Cyclones dominated THS in any facet of the game. The schooling came from the valuable basketball lessons learned during the hard-earned Kaw Valley League road victory.
Up 47-45 after a layup by senior Roni Grizzle with 23 seconds remaining, senior Chrissie Jeannin was whistled for a personal foul with 3.4 ticks left while contesting a shot from Ward's Sarah Epping. THS coach Randy Kraft called a timeout before her first attempt to get his players on the same page.
"I was praying to God that she missed it," Grizzle said, "and Kraft knew that she was going to miss one of them."
The coach's intuition proved correct as Epping missed the first. He then called another time out to caution his players about what to do on the second shot, hit or miss.
"You just want to make sure, mentally, they don't go to sleep," Kraft said.
Epping made the second to cut Tonganoxie's lead to one and, just as Kraft instructed, the Chieftains got the ball in bounds quickly to junior guard Andie Jeannin, one of the team's top shooters. Jeannin was fouled and hit the second of her two charities to put THS up two with 2.3 ticks left.
Ideally, Kraft said, THS would have fouled at that point — "You don't want them getting a three off," he said — because the Chieftains weren't yet in the bonus. But Ward was unable to get off a legitimate shot for the victory.
Although the narrow win tested the players' nerves, Grizzle, who had 15 points, 12 rebounds and five steals, said the team needed that kind of experience.
"I think it's good practice," she said, noting the team should benefit from the closely contested game. "Now we know what it's like to be up by three with a minute left to go, and we know how to take care of it."
Point guard Chrissie Jeannin, who, like Grizzle, had a double-double with 18 points, 10 boards and five assists, said she tried to keep her teammates calm in the fourth quarter as the THS lead dwindled.
"Close games are always good because you know what you'll need to do in certain situations (in the future)," Jeannin said.
Kraft said the biggest problem for Tonganoxie (4-1 overall, 2-0 Kaw Valley League) against Ward was converting from the floor. The Chieftains shot 18-for-50 on field goal attempts (36 percent).
"We didn't play badly but we missed a lot of shots that we've been making," Kraft said. "We struggled (Friday) putting the ball in. Those kind of games, you hate to see them but hopefully it makes you grow and understand that when things aren't quite going your way, it's not desperation time."
The coach said he hopes the team eliminates "bad" shot attempts in the future.
"You have to do a little bit better job of choosing which shots you're going to put up," Kraft said.
It was just one of the many lessons THS learned on Friday.
"Those are all learning experiences," Kraft said. "We're just looking to try and get our team as good as it can be by the end of the year and even games like this are going to help you get there."