Goebels welcome home 3rd to family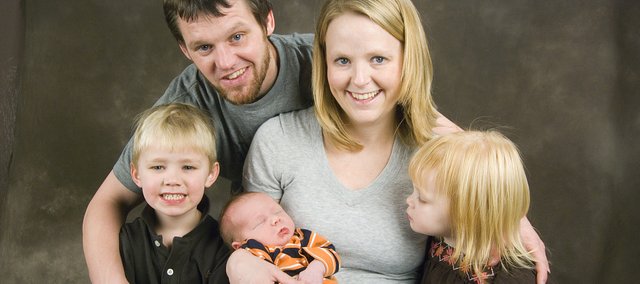 The new year can mean a lot of changes for any family.
But for the Goebels, the new year brought a big 19-and-quarter-inch, almost eight-pound change.
As Jeremy Goebel eagerly waited, and after about six hours of labor, his wife, Lisa, gave birth to Brock Christopher Goebel, their new baby boy, around 1:30 p.m. Jan. 2.
"It's different from having little kids to having a baby," Jeremy said. "We have to get used to changing diapers again."
Brock joined 5-year-old Jace and 2-year-old Addison as the family's newest addition. Lisa said the kids were excited about having a new sibling.
"The kids really love him," Jeremy said.
Brock was named winner of The Mirror's 2009 First Baby of the Year Contest. Prizes have been donated by various businesses for the contest. The Goebels will receive gifts from area banks and restaurants, as well as certificates for area services.
The Goebels said they were finished having kids for now, but might entertain the idea of adding a fourth in a few years.
Just as when Lisa was pregnant with Jace, the Goebels decided to keep Brock's gender a secret throughout the pregnancy because they liked the excitement of not knowing.
"It's more fun that way," Lisa said. "I was excited when we found out. I wanted a boy."
Lisa works as a nurse at Shawnee Mission Medical and Jeremy works as a physical education teacher at the Tonganoxie Elementary School and as head coach of the Tonganoxie High School wrestling team.
Brock originally was due before the new year, but like the Goebels' other children, Brock was late.
Lisa said she joked with her husband that he was going to have to miss the Randy Starcher Memorial Invitational because she would be giving birth to Brock. Jeremy didn't miss the invitational and the Chieftains took home four individual titles and the team title.