Officials sworn into local offices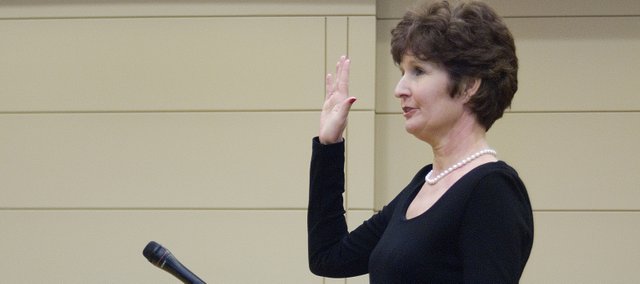 Some new faces got a taste of their new jobs in the county Tuesday after being sworn into their positions Monday afternoon.
New to their positions were John Flower, who took over for Dean Oroke for third district commissioner; Janet Klasinki, who took over for Linda Scheer as county clerk; and Todd Thompson who replaced Frank Kohl as county attorney. Oroke and Scheer did not seek re-election; Kohl, the longtime county attorney, lost to Thompson in the general election.
Thompson thanked his friends and family, including his parents, who died last year, and those who voted for him. He said he would work hard to gain the trust of those who didn't. He even thanked Frank Kohl, who lost the county attorney's race.
"I hope to live up to his standard and even exceed that," Thompson said. "We have a lot of work to do and there is a lot of change that is going to happen and I'm ready to do it."
Returning to their posts were Second District Commissioner Clyde Graeber, Leavenworth County Treasurer Janice Young, Sheriff Dave Zoellner and Stacy Driscoll, register of deeds.
After being sworn in, Graeber thanked the people of his district for giving him another term as a commissioner, and he thanked the people he had worked with for the last four years. He specifically mentioned outgoing commissioner Dean Oroke who chose not to run for his commission seat again.
"It's been a real privilege for me to have worked with Dean," Graeber said. "We will miss his knowledge, his retention of facts and his massive files that we always called on for documentation of what we did and why we did it."
Graeber wished Oroke the best of luck in the future.
Chief Judge David King presided over the swearing in ceremony.
In other news the commission:
• Unanimously renewed the lease of the EMS Eisenhower Station for $1,960.85 a month ($1,340 for rent, $232.50 for maintenance, and $388.35 for real estate taxes)
• Had Graeber sign the city/county probation contracts.
• Unanimously voted for a contract for $47,969 with DRG Engineers for bridge design on the ST-48 rehabilitation project.
• Adjourned before the new board convened in the afternoon session.
• Nominated and voted in Flower to be the new chairman.
• Set the regular meeting days to be at 9 a.m. on Mondays and Thursdays unless otherwise stated.
• Unanimously voted to send out a request for proposal to The Mirror, the Basehor Sentinel and the Leavenworth Times to bids on which newspaper will be the county's official paper. Commissioner J.C. Tellefson said he also wanted information on the newspapers Internet traffic to be included in the RFP.
• Unanimously designated the last Monday of the month to be bill day as requested by the county clerk.
• Unanimously voted to set the commissioners salaries to $40,389.40, which includes a 10 percent pay cut.
• Unanimously voted to change the way meeting minutes are processed. Now meeting minutes will be finished at the end of the day the meeting took place, and they will be approved no later than a week after the meeting took place.
• Made no motion to change the district lines as requested by Janet Klasinski, county clerk. She said the lines couldn't be changed until after the next U.S. Census.
• Discussed how funding would be provided to the Kansas Sampler Festival Steering Committee. Joining the discussion was Bob Topping, who heads the committee. The commissioners asked County Counselor David Van Parys, to look over the agreement with the steering committee and to come back with a briefing report for the Jan. 22 meeting.
On Thursday the board:
• Unanimously voted to spend $1,250 to a consultant to conduct a conflict management course for all 50 county employees.
• Unanimously passed a motion to make a $16,000 counter offer to Tom Lynch of Lynch Consulting for future work on the county's communications project. Lynch's original proposal was for $28,000.
• Voted, 2-1, to continue the county's practice of paying discretionary days for employees who have stopped working for the county. Tellefson and Oroke voted in favor of continuing the county's practice of paying those days to employees who have been terminated or have had a separation of employment.
• Unanimously passed a new useable materials policy for the transfer station. Leavenworth County residents may now, at their own risk, remove items, by hand, such as firewood, various household chemicals and waste tires. These items may not be re-sold or re-distributed for person gain or profit. Persons who want to remove materials must check in at the Transfer Station Scale House before going to the material areas. They must also completely fill a reclaiming useable material form and a liability waver.
• Met in executive session to discuss potential litigation for a total of five minutes.