Four
THS

grapplers medal at Bobcat Classic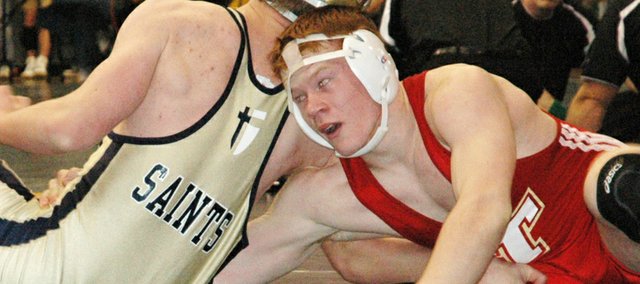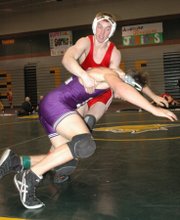 At an always loaded, 32-team Bobcat Classic this past weekend, the Tonganoxie High wrestling team finished in the top half of the standings as four grapplers placed.
The Chieftains were 14th in the team standings at the end of the two-day event at Basehor-Linwood thanks to a fourth-place finish from 140-pound senior Matt Brock, sixth-place performances from 189-pound senior Steve Davis and 171-pound junior Jeremie Maus and an eighth-place finish from 160-pound junior Jeremy Elliott.
Tonganoxie coach Jeremy Goebel said the Chieftains' finish and medal count was great considering the level of competition at the Bobcat Classic.
"It's considered much harder to place there than it is in the state tournament," he said. "I felt that this was a great venue for our kids to be a part of which only will make us tougher in the end come regional and state time."
Even those THS grapplers who didn't finish in the top eight of their weight classes showed well, Goebel said.
"I thought the kids that did not place wrestled very tough and we have a ton of young kids in our lineup, which is very promising for a strong finish toward the end of the season," Goebel said.
The Chieftains coach ranked the weekend as the team's best effort of the 2008-2009 campaign so far.
"I thought our kids competed very hard and we have done the best job of the season finishing on our feet with over 50 takedowns this past weekend," Goebel said.
THS season leaders
Brock leads THS in wins (23) and takedowns (37). Freshman Caleb Himpel, 119 pounds, leads Tonganoxie with 28 escapes. A 152-pound freshman, Shane Starcher leads the team in reversals with 15. Davis has 17 pins to lead Tonganoxie.
Bobcat Classic team standings
1. Goddard, 231.5; 2. Lansing, 179.5; 3. Andale, 124.5; 4.Olathe South, 114; 5. Olathe North, 107.5; 6. Glenwood, 102.5; 7. Junction City, 91; 8. Columbus,
90; 9.Pittsburg, 88; 10. Silver Lake, 85; tie-11. Garden City, 83; tie-11. St. Thomas Aquinas, 83; 13. Basehor-Linwood, 72; 14. Tonganoxie, 67.
Tonganoxie individual records
Vinnie Angell, 4-1 (did not compete)
Anthony Baker, 4-7 (did not compete)
Riley Banks, 4-5 (did not compete)
Matt Brock, 23-4 (3-2 at BLHS, fourth place)
Justin Crotty, 8-12 (1-2 at BLHS)
Steve Davis, 20-5 (3-3 at BLHS, sixth place)
Jeremy Elliott, 21-8 (2-3 at BLHS, eighth Place)
Kevin Hamm, 16-10 (2-2 at BLHS)
Tyler Hand, 7-9 (0-2 at BLHS)
Jon Harris, 14-10 (2-2 at BLHS)
Caleb Himpel, 10-12 (1-2 at BLHS)
Austen Holloway, 7-4 (did not compete)
Hunter Lohr, 10-14 (0-2 at BLHS)
Eric Lucas, 2-4 (did not compete)
Joao Martins, 3-12 (did not compete)
Jeremie Maus, 16-8 (3-3 at BLHS, sixth place)
Jonas Myers, 10-4 (1-2 at BLHS)
Justin Soetart, 2-0 (did not compete)
Hanks Somers, 3-20 (0-2 at BLHS)
Shane Starcher, 6-10 (1-2 at BLHS)
Adam Thomas, 13-9 (did not compete)