Tonganoxie girls hope to regroup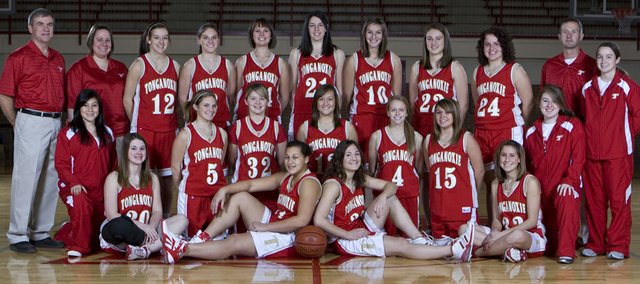 In the five years that the Tonganoxie Invitational has featured a girls bracket, host Tonganoxie High has finished the week with the championship trophy on three occasions.
If the Chieftains want to keep that trend going in year six, they will have to quickly recover from a potentially confidence-rattling loss Friday at Piper.
Any momentum THS (5-2) had picked up this season might have been slowed by the 48-20 loss to the Pirates. Nothing went right for the Chieftains, and coach Randy Kraft bemoaned the way THS performed in just about every category.
"We didn't play with a lot of aggressiveness, we didn't rebound well, we were kind of a half-a-step behind," Kraft said.
Tonganoxie trailed the entire game, an uncommon scenario.
"We usually are the ones playing ahead of the other team and we were just playing behind," Kraft said. "We were pretty lackadaisical as far as handling the ball and moving the ball and our shooting (5-for-38, 13 percent) was atrocious."
If any good comes of the forgettable game, it might be that it served as a wake-up call. Senior forward Roni Grizzle said the players were just as disappointed in their play as Kraft was and things have to change if they want to return to their winning ways and contend for the invitational crown.
"Everyone, especially after Friday, is ready to go out there and redeem ourselves," she said after scoring an uncharacteristically low six points at Piper.
The unsettling performance prompted a soul-searching session in the locker room after the game. Long after the THS coaching staff departed, the players remained as Grizzle and fellow senior Chrissie Jeannin reiterated the things Kraft had been telling the team, and broke down what each player needed to do for THS to reach its potential.
"It was a tough night," Grizzle said, adding that the meeting was intended to make sure all the players would have the same mental approach going forward.
"I wouldn't say that we weren't ready to play," Grizzle said, "just something was going on in individuals' heads that wasn't clicking with the team."
It was the worst outing of the season for Tonganoxie, and Kraft said the team needs to regroup in a hurry if it wants to make any noise at the tournament this week.
"I think we need to get all of the players on the same page," the coach said. "We keep talking about it — our team chemistry right now needs to improve. We need to have all five players on the floor with the same goal and focusing, and players making plays."
Moreover, Kraft said, the Chieftains need to have all five players on the floor producing.
"Everyone knows that Roni and C.J. (Jeannin) are our two guns," Kraft said, "but we've had other games where other kids have stepped up and been leading scorers and been a big part of it, and that's probably what we're missing right now — we're just not getting enough kids stepping up."
Point guard Jeannin and post Grizzle have consistently led THS — they both have scored in double figures five times — but junior Andie Jeannin has been a valuable third scoring option and freshman Haley Smith led the team with 16 points in a win against Perry-Lecompton.
However, Grizzle pointed out, there is much more to it than point totals.
"It doesn't matter who scores the most points … as long as everyone does their job and they do it right, we know the team will succeed," she said.
With each Chieftain playing her role, THS could be in the mix for the tourney title. Kraft said it is always the team's goal to win its own tournament and mentioned a few teams as potential favorites.
"Eudora has to be (favored)," Kraft said of the team with the best record (7-1) entering the tournament, the same squad that gave Tonganoxie its first loss of the season. "We haven't faced Lansing yet, but I think they're going to be really tough as well."
Grizzle said the Chieftains know about the team's history of invitational success, and they are looking forward to defending their 2008 crown.
"We're trying not to make it about the past, but this is our tournament, and this is our chance to show everyone how good we are," she said.
Following a loathsome loss and some heart-to-heart player talks, Grizzle said the team should be ready to play with a purpose at the invitational.
"I think everyone's going to respond really well," Grizzle said.