Tonganoxie boys haven't won invite in 15 years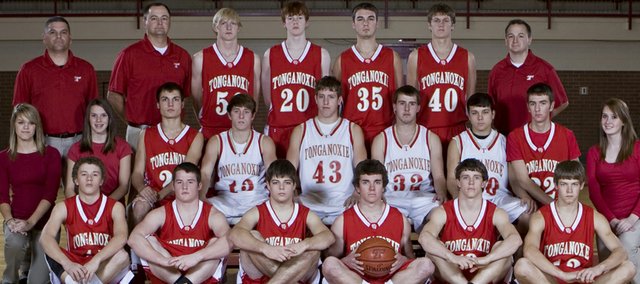 The last time the Tonganoxie High boys basketball team won the Tonganoxie Invitational, THS coach Shawn Phillips was a senior playing for the Chieftains.
That was 1994. This is now.
THS enters the tournament with a 4-3 record and the coach who finished first at the invitational as a player 15 years ago knows winning the title at the 50th edition will take three exceptional games from his team. Phillips said the boys tournament should be wide open.
"Any of the top three or four teams are capable of winning it all. Lansing has already proved to be a very good opponent," Phillips said, before noting Eudora, which played in the final of the Paola Invitational, where the Cardinals suffered their only defeat of the season to Harmon, should also challenge.
The Chieftains won their first three January games before losing at Piper, 51-42, on Friday evening. To get back on track at its home invite, Phillips said THS would need to play at a high level.
"I think we have the ability to beat any team in the field, but we can't go out with our half-best effort," Phillips said. "We've got to bring our best effort every night."
Sophomore point guard Jeremy Carlisle said Tonganoxie wants to defend its home court.
"This week is just huge for us," Carlisle said. "We just need to come out strong, especially in front of our home crowd and everything,"
Because the tournament is filled with good teams, senior center Austin Smith said THS won't be taking anything for granted.
"We just want to take it one game at a time and not get too headstrong or ahead of ourselves," Smith said.
Carlisle agreed, and said the Chieftains were only worried about their Tuesday opponent, Silver Lake. The team can't afford to look past anyone because a nine-point setback at Piper reminded the players they aren't invincible.
"Coming off a loss, we're definitely going to be ready to play," Smith said.
Tonganoxie, Carlisle said, should be able to bounce back from its offensive struggles (THS made just three field goals in three of the four quarters against the Pirates) because the team has a unique personality.
"If we lose, we don't get in a slump for that long," Carlisle said, adding that the defeat bothered them Friday night, but it is now behind them.
While the Chieftains had some success at Piper — junior forward Keaton Schaffer had 13 points and nine rebounds, senior guard Jace Waters scored 10 and grabbed six boards and Smith went 4-for-7 for eight points and led THS with 10 rebounds — Smith said they didn't execute their offensive sets. To make a run at the invitational, he said THS needs to run through its plays and not settle for the first available shot.
"We just need to work the ball around and take it to the rim some more," Smith said.
More transition opportunities also will be critical for THS this week, Carlisle added, and the last couple of games, those have come more easily as Waters and Carlisle have been rebounding more.
"When me and Jace get the rebound, or even Keaton, either of us could just bring it down the court and it just makes our transition offense so much faster," Carlisle said.
Subs Brandon Yoder, Rob Schlicht, Dylan Scates and Justin Jacobs have given the Chieftains some different looks on the floor. Phillips said continuing production from the THS bench would be important this week.
"The good thing about our bench is that we've got a variety of different styles of players," Phillips said, adding that Schlicht can handle and pass, Scates provides some offense, Jacobs rebounds and Yoder brings athleticism, tenacity and the ability to defend multiple positions.
With all cylinders firing, the Chieftains hope to win the invitational, just like Phillips did in 1994.
"This being his first year here, that would just be amazing to go out and win it," Carlisle said.
The coach said that would be nice, but …
"It doesn't matter if it's the Tonganoxie tournament or whatever tournament, we want to be in the championship game of any tournament," Phillips said. "Would it be special being here at home? Yeah, definitely it would. But our goal is to win anywhere that we play."