Invitational celebrates 50 years
Past players reflect on Tonganoxie tradition, evolution of game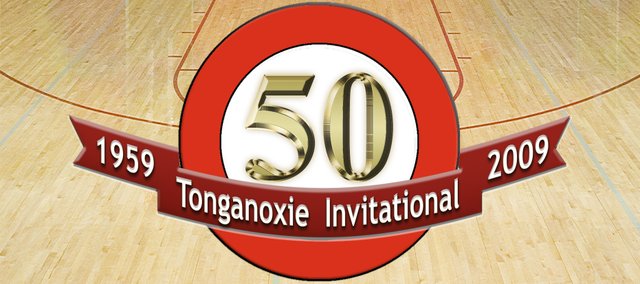 Half a century ago, Tonganoxie High principal and basketball coach Tom Beatty decided to start up a holiday tournament in town.
Without knowing it at the time, the 1958-1959 "T-Men," as the basketball team was known, started a tradition that continues to this day, the Tonganoxie Invitational.
A co-captain on the '59 team that played in the very first invitational, Fred Mills said the tourney got started because THS didn't get an invite to another one — the Tournament of Champions in Dodge City, now dubbed "the oldest continuous high school boys basketball tournament west of the Mississippi."
"You know how people always have these ego trips about how good they were," Mills said. "We didn't get invited to that Dodge City, so Mr. Beatty decided that maybe we'd start our own."
In its original form, the invitational was played at the old high school gym (now part of the Tonganoxie Elementary School) and featured a four-team format during the winter break. Presently, of course, the 50th annual Tonganoxie Invitational features eight teams in the boys tournament and eight more in the girls bracket — now in its sixth installment.
Starting a tradition
When it was brand new, '59 senior Jack Day said, the players didn't know they were a part of something that would have such longevity.
"It was just like a normal tournament like they would have now around Christmas time," the former player said, indicating the team didn't consider it extraordinary.
Now, Mills said, he reflects on the inaugural tournament with a different perception.
"Traditions, you know, you look back on those later and kind of pick up on the importance," Mills said. "(At the time) it was just a fun thing to do, a nice event for the holiday."
From the first edition, the event had the support of the Tonganoxie community. A 1959 senior for THS, Kenny Hardy said the old gym, which didn't have nearly as much seating as the new one, was brimming with fans.
"All the people in town, all the basketball enthusiasts, the ones that followed the high school, they were all there — that gym was full," Hardy recalled. "It was packed to the gills."
The invitational was popular, Mills said, because it was a new form of in-town entertainment.
"We didn't have all the big things to do in those days, so sports were a big part of the winter for everybody in town," he said.
With a packed house, it was no surprise that the THS players enjoyed the atmosphere.
"Tournament time was always exciting to me," Hardy said. "It seemed like we were always up for it."
'Normal' team
Mills said the new tournament provided Tonganoxie with an opportunity to measure up against other area teams, and Day didn't tell any tall tales when describing the THS teams of his day.
"There wasn't any outstanding players between the five of us. We was all about normal height," Day said, noting that THS did have some good shooters and although the players weren't tall, they were solid basketball players. "It seemed like everybody was the same size — like 5-10, 5-11 — and hardly any team was over 6-foot-1 or anything like that. All the teams were pretty even, and we always had trouble with Immaculata every year, and Lansing."
Neither Hardy, Day nor Mills had glorious, made-for-Hollywood memories of their 1959 team that finished second at its district tournament, but they did mention the positive influence their coach had on them.
"What I really enjoyed was Coach Beatty," Hardy said. "You could come in from halftime ... you could be behind and down, and he could just say a few words and you'd just feel like tearing everything apart. You'd kill yourself for him if you could. He just had a way with the players."
Reserved seat
As far as Tonganoxie Invitationals go, nobody has a more complete memory bank than Art Hancock. A 1958 THS graduate, Hancock didn't get an opportunity to play in the home tourney, but he has been in the bleachers for every edition since its inception.
"I've seen a lot of basketball in these gyms," Hancock said. "You could probably count on one hand the number of home games I've missed over the years."
Hancock has seen it all — good, bad, memorable and forgettable — from years when THS seemingly always faced Bonner Springs in the final to leaner years when the Chieftains played in the consolation bracket. He said it was just about impossible to pin-point the best moment. However, he said there are some players who have participated in the invitational he always will remember. A few Tonganoxie players from the 60s went on to play collegiately, quite a few from various schools went on to small in-state programs such as Washburn and Emporia State and one player, Ed Nealy of Bonner Springs, played at Kansas State and eventually became an NBA journeyman, playing for five different franchises from 1982 to 1993.
Evolution of the game
The game of basketball has evolved immensely since the first THS tourney. Hancock said the difference between a 1959 game and a 2009 contest is night and day. Currently, he said, the game is faster and far more physical, which might account for the difference in yesterday's and today's personnel rotations.
"(Back then) you had your starting five, maybe one (sub), and it went downhill real quick from there," Hancock said. "Now you'll see a lot of teams that use, eight, 10 ballplayers."
It was a different game in 1959, Hardy agreed, much more methodical and less highlight-driven.
"We didn't know what a dunk was or anything. Most of our shots had to be made from outside," Hardy said, noting that teams played zone defenses almost exclusively and the THS players in his day weren't used to man-to-man.
The game is fast now, and Hardy didn't like his team's chances against a modern day squad.
"If we played one of these teams now, even one of the worst teams, they'd probably blow us away," he said.
But with their shooting ability, that three-point line that hadn't been invented in 1959 sure would come in handy now for the T-Men wouldn't it?
"You bet," Hardy said with a laugh.