Smith scores 23 as
THS

boys win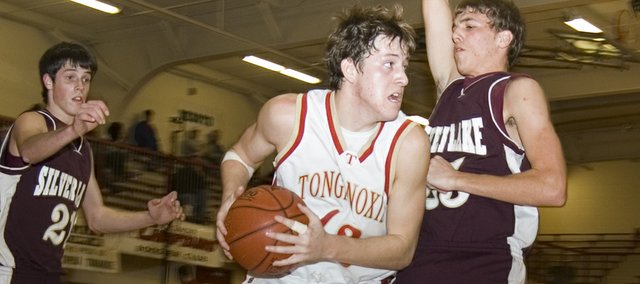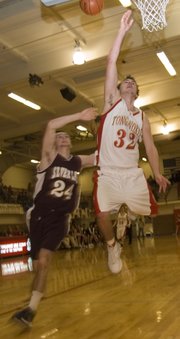 It wasn't easy, but the Tonganoxie High boys basketball team found a way to win in the opening round on the Tonganoxie Invitational on Tuesday night as the Chieftains knocked off Silver Lake, 57-49.
Trailing at the half, and leading by just one after three, THS (5-3) eked out a victory by outplaying the Eagles (5-5) in the fourth quarter as junior Keaton Schaffer caught fire and scored nine of his 14 points, which coach Shawn Phillips said is one of his strong suits.
"Keaton's one of those guys who can explode in a hurry," Phillips said, noting the junior got going with a few transition layups and then was able to penetrate the zone that had given THS trouble in the first half.
Senior Austin Smith dominated the paint for THS, going 10-for-15 from the floor on his way to 23 points.
The game was tied at 44 in the fourth before Schaffer gave Tonganoxie the lead for good on a baseline drive. That bucket was followed by a tip-in by Smith that gave THS a four-point cushion with less than two minutes remaining.
Phillips liked the way his team responded under pressure, finishing strong, which he said was a sign of a good team.
"I thought our last three minutes of the game were the best we played," Phillips said.
Jeremy Carlisle and Jamie Everett both went 2-for-2 from the line in the final 1:15 to seal the victory.
The coach was happy THS could get a win on a night that it went 1-for-20 from three-point range (the only make came from Carlisle on Tonganoxie's first bucket of the game).
"The key was we got some two-foot shots, because we weren't hitting anything from the outside," Phillips said.
Tonganoxie will play Eudora — which cruised Tuesday against Don Bosco, 89-52 — in the second round of the invitational on Friday at 7:30 p.m.
Friday's other semifinal, to be played at 4:30 p.m., will feature Lansing and De Soto.
In the consolation bracket on Thursday at THS, Atchison will face Jeff West, and Silver Lake will take on Don Bosco.
Score by quarters
Silver Lake 15 16 4 14 — 49
Tonganoxie 16 11 9 21 — 57
Tonganoxie scoring
Jeremy Carlisle 1-9 5-6 8, Jace Waters 2-5 1-2 5, Jamie Everett 2-3 2-2 6, Keaton Schaffer 6-17 2-3 14, Austin Smith 10-15 3-7 23, Dylan Scates 0-1 1-2 1, Rob Schlicht 0-1 0-0 0, Justin Jacobs 0-2 0-0 0, Brandon Yoder 0-0 0-0 0.