Tonganoxie girls go on 28-0 run in rout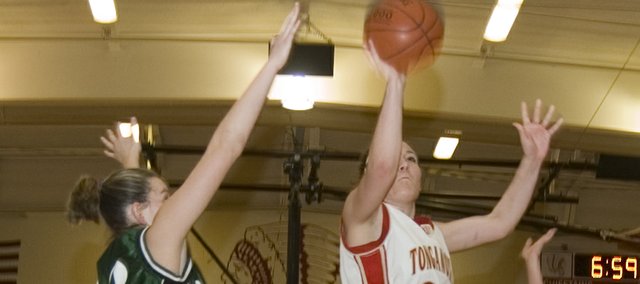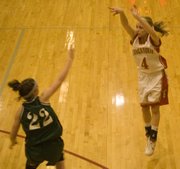 The first round of the girls bracket at the Tonganoxie Invitational closed Tuesday evening with the home Chieftains knocking off De Soto, 53-27.
The Wildcats (2-7) led briefly in the first quarter, 10-7, but Tonganoxie (6-2) proceeded to go on a 28-0 run that spanned all of the second quarter and ended with 6:10 remaining in the third when De Soto's Katie Williams scored on a putback.
Tonganoxie coach Randy Kraft said it was a much better effort from his team, which lost by 28 in its previous outing at Piper on Friday.
"They really fought and battled, didn't give up on rebounds and loose balls," Kraft said. "They did a great job out there, defensively, and just a better job overall of communicating and helping each other."
The Chieftains' defense held DHS to 10-for-48 shooting. Meanwhile, THS hit 23 of 45 shots.
Tonganoxie senior Roni Grizzle opened the win on a personal 7-0 run and finished as the game's leading scorer and rebounder with 18 points and 14 boards.
Grizzle was one of six Chieftains to score as they shared the ball well, racking up 19 assists on their 23 makes. Senior point guard Chrissie Jeannin led with six dimes and junior forward Abby Eisman had five.
"We had a lot of kids scoring tonight that hadn't typically been putting up that many points," Kraft said.
One of those players was sophomore Danielle Miller, who started for the first time this season, scored four points and got four rebounds.
"Danielle's been playing better and it gives us another bigger body in there," Kraft said of the lineup change, which moved guard Lauren Hall, who scored seven, to the bench.
Tonganoxie advances to play Lansing on Friday at 6 p.m., and De Soto will take on Jeff West in the consolation bracket on Thursday at 6 p.m.
In Tuesday's other girls game, Eudora annihilated Don Bosco, 83-2 (that's not a typo). The Cardinals will face Silver Lake on Friday at THS at 3 p.m.
In Thursday's other consolation game, Atchison will play Don Bosco at 3 p.m.
Score by quarters
De Soto 10 0 9 8 — 27
Tonganoxie 17 16 10 10 — 53
De Soto (27)
Tami Crow 2-10 0-0 4, Amber Laudick 0-5 0-0 0, Shelbi Petty 2-11 0-0 6, Kelsey Fisher 1-10 1-1 3, Katie Williams 2-6 0-1 4, Jordin Burford 0-1 1-2 1, Katie Gorman 0-0 1-2 1, Erika Titus 2-2 0-1 4, Jesse Spencer 1-3 1-2 3.
Tonganoxie (53)
Andie Jeannin 0-2 0-1 0, Roni Grizzle 7-12 4-9 18, Abby Eisman 4-7 0-2 8, Danielle Miller 2-2 0-0 4, Chrissie Jeannin 4-8 2-5 10, Haley Smith 3-7 0-0 6, Lauren Hall 3-6 1-2 7, Tayler Miles 0-1 0-0 0.