Club discusses inauguration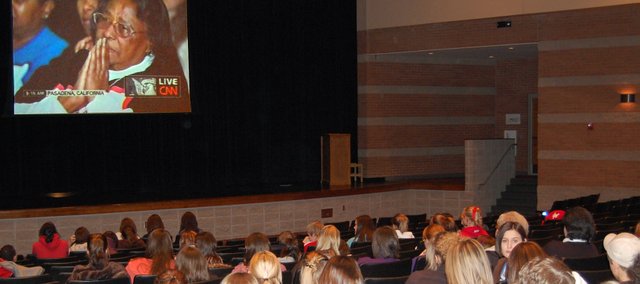 A new club at Tonganoxie High School wants to promote unity and tolerance and bring awareness to everyone's individuality.
And for the group's members, there was no better time to promote their club than with the inauguration of President Barack Obama.
"We thought it would be an appropriate way to start off since his theme was about bringing the country together and our purpose was to bring the students together," said Denise LaRosh, THS teacher and the club's adviser.
Around 100 of the club's 130 members gathered Tuesday afternoon at the Tonganoxie Performing Arts Center to watch a taping of the inauguration.
LaRosh and the sophomores who organized the event, Dominique Grizzle, Chelsea Smith, Katelyn Colgrove and Cristina Rubio, wanted to make the viewing special. They printed personalized invitations modeled after an actual presidential inauguration invitation. They also served refreshments made by Rubio's mother.
Smith said that politics isn't something that is usually talked about with her peers, but she and the other girls hoped this might change with the new administration.
"It was an opportunity to get Tonganoxie students to start talking, which is a good thing because we know kids are watching and listening," Grizzle said.
As for the actual inauguration, some of the students were moved by the historical significance and by what Obama said during his speech.
"It made history," Rubio said. "It made everyone sit up and listen."
The Multicultural Club was formed shortly after the general election when a THS student didn't like negative comments being said during a class discussion about Obama winning the election. The club is attempting to meet once a month, but next month's event hasn't