Dunlap named citizen of the year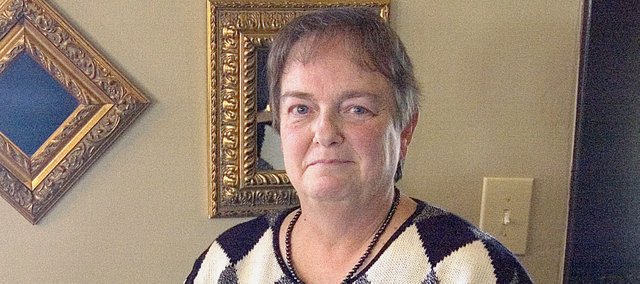 When Dorothy Dunlap learned that she was named the 2008 Tonganoxie Chamber of Commerce Citizen of the Year, she was a bit surprised.
"Well, I was shocked when she called and told me," Dunlap said, referring to a call from chamber director Cheryl Hanback. "By the time it happened, it felt pretty good."
At the chamber's annual meeting Thursday at the Amanna élan bed and breakfast, the chamber of commerce recognized Dunlap for her years of community service in Tonganoxie.
She has been an umpire for 35 years, most of that in Tonganoxie and one year in Eudora, "because they needed someone doing it there" Dunlap said. She also has umpired in Basehor and "different places" in the area.
"I played ball when I was younger," Dunlap said, explaining how she got involved in umpiring baseball and softball. "Somehow it evolved into that. And I like doing things with the kids."
A teacher in the Piper School District since the 1970s, Dunlap also has volunteered at Good Shepherd Thrift Shop and Food Bank for about five years. She's also the shop's treasurer and volunteers as manager on Saturdays.
"I do it because I like it," Dunlap said about volunteering. "I didn't expect anything out of it."
Other awards were handed out at the event.
The Community Service Award went to Good Shepherd Thrift Shop and Food Bank.
The chamber presented longtime Good Shepherd volunteer Dorothy Korb with the award.
She's been a part of the organization for the 22 years it's been in existence.
"They said we wouldn't last," Korb said with a laugh at the event.
The 2008 Member of the Year Award went to West Haven Baptist Church.
Chamber President Blake Waters praised the church for supplying the sound system for the Mayor's Christmas Tree Lighting ceremony, as well as being the host site, at no cost, for the chamber's annual Taste of Tonganoxie event.
"If it wasn't for that event we'd be in dire straits with our budget," Waters said.
After the awards ceremony, newly elected state Sen. Tom Holland, D-Baldwin, spoke at the luncheon.
Holland discussed the difficult economy and the expected tough times ahead.
"I don't think we have any idea what the bottoming out is," Holland said.
However, the senator did mention the importance of small businesses, such as ones in Tonganoxie and Baldwin.
"Small businesses are the life blood of our communities," Holland said.
He said businesses needed to persevere during these hard times.
"There are happier days," Holland said. "But I think we have to have patience."
Holland's presentation did come with a bit of humor as well.
He asked the group what was the difference between a Wall Street broker and a pigeon?
"Pigeons can still make a deposit on a Lexus," Holland said, which drew a round of laughs from the group.
The luncheon concluded with City Administrator Mike Yanez briefly discussing the Tonganoxie Retail-Commercial Development Plan 2020. Yanez also noted that Tonganoxie Water Park, in 52 days of operation during the summer of 2008, had about 17,000 visitors. And, he noted people were coming from as far away as Brookside, Mo., to use the water park. Yanez said the visitors met with friends from Lawrence and came over to Tonganoxie.
The 2009 Tonganoxie Chamber of Commerce officers are: Blake Waters, president; Margaret Steele, vice president; Marcy Manion, treasurer; and Steve Christensen, John Evans, Kathy Graveman and Mike Reischman, officers.
Chamber of Commerce director is Cheryl Hanback and assistant is Amy Harris.