THS

drummer, sax player make state again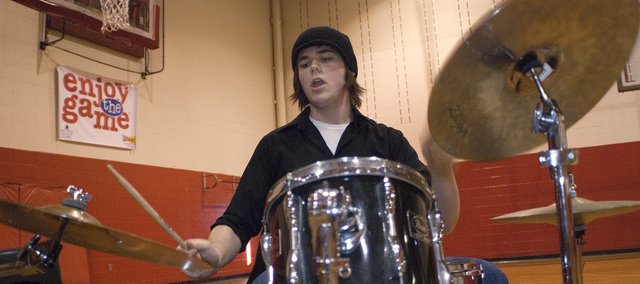 In the near future, Rex Hancock, Tonganoxie High School senior, plans on becoming a recognized name in the Kansas City music scene.
But for now, he'll just have to be known around town as the first student to get first chair in percussion at the 1A-6A All-State Orchestra.
"I was really a surprised," Hancock said. "I didn't think it was possible for me to get into something like that."
As a junior, Hancock, along with then junior Ryan Brammer, and then senior Ryan Wolfe, became the first in school history to perform in the 1A-4A All-State Band at the Kansas Music Educators Association Conference in Wichita.
Brammer, who plays the tenor saxophone, and Hancock, who plays the drums, were also with first in school history to repeat the honor with Hancock taking it a step further by being selected to perform in the state orchestra.
Charles VanMiddlesworth, Tonganoxie High School band director, said this was a historic achievement for the kids and for the school.
"It's a great experience just to be there and to perform with that level of musicians in Wichita," VanMiddlesworth said. "That's awesome."
Before Hancock became the principal of the percussion section, he had to audition for the state band.
He said he was really nervous during the audition, but he was able to calm his nerves and perform. But the anxiety didn't stop there.
"I was nervous for the next few days until I found out the results," Hancock said.
Hancock hasn't gotten the music that he will perform during the conference, which will be held on the Feb. 26–28 at the Century II Performing Arts and Convention Center, but he thinks it will be different from the 1A-4A All-State Band music he played last year.
"I'm sure the music is going to be less exciting because it's an orchestra, but it's going to be good experience for me," he said.
VanMiddlesworth said he will help them practice for their performance, but he already knows how hard the students have worked to get to where they are.
"This takes a lot of dedication on their part to work hard and to want to learn the music and really strive for this excellence," VanMiddlesworth said. "I'm excited for them."
— Look for more on Brammer's achievement in upcoming print editions of The Mirror.