Youth experiences inauguration first-hand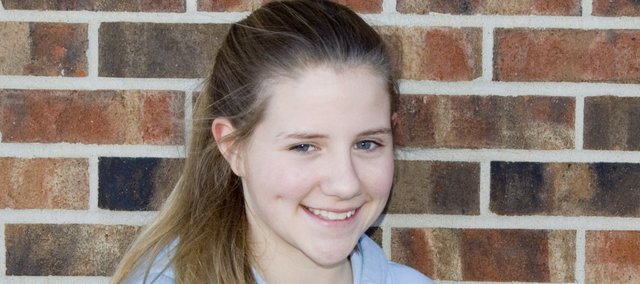 A Tonganoxie Middle School student was part of a historic inauguration.
Earlier this year, 14-year-old Chris Tiner, an eighth-grader at TMS, learned that she had been selected to attend the Junior Presidential Youth Conference, which ran Saturday through Tuesday in Washington, D.C.
"I'm kind of being able to see history," Tiner said Thursday. "When we signed up we didn't know it was going to be so historical. But as the race went on, we realized how historical it was going to be. Whether McCain and Palin won, or Obama."
Tiner was one of 2,900 students in grades 5 through 8 participating in the four-day conference, which took students to various sites in Washington, D.C., and the surrounding area. The group attended the inauguration parade, the inauguration itself and the Gala Inaugural Ball.
TMS teacher Judi Barbee nominated Tiner to attend the Junior National Youth Leadership Conference in 2007, also held in Washington, D.C. Select students from that conference were picked to return for the inauguration conference.
During the conference, the group also participated in workshops at the University of Maryland and will hear keynote speeches from former Secretary of State and retired Gen. Colin Powell, former Vice President Al Gore and Erik Weihenmayer. In 2001, Weihenmayer summited Mount Everest, becoming the first blind man to reach the top of a mountain.
"It's kind of cool because I get to meet all these really important people that most kids would be lucky to maybe see one," Tiner said. "But I get to see a bunch of them."
While in Washington, D.C., participants visited the National Mall, the Newseum and took a Potomac River cruise.
Tiner viewed a screening of the documentary "The Third Monday in October," which follows students across the country vying for the position of student body president in their schools.
The film's director, as well students featured in the film, will participate in a discussion after the showing. Dee Dee Myers, former press secretary for President Bill Clinton and now a political commentator, moderated the discussion.
Tiner was required to raise $2,400 for the conference, which Tonganoxie area businesses helped fund through donations.
She said she hoped to meet President Barack Obama while in Washington, D.C., but said she doesn't plan to enter politics herself.
"I'm not really interested in politics, but I guess I kind of want to go into engineering."