Moon Marble rolls with economy's punches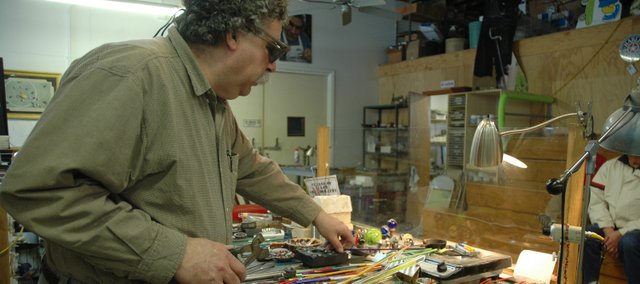 Being a finalist in the 8 Wonders of Kansas Commerce contest hasn't done much for business at Moon Marble.
"This is the slowest we've been in the last five years," owner Bruce Breslow said.
It isn't support in the form of respect and admiration the store is lacking. Finalists are chosen by representatives across the state who make their selections based on the significance of each business within a given city — a stamp of approval suggesting that Moon Marble, even if it doesn't claim a spot on the 8 Wonders list, is already doing much to enhance the city of Bonner Springs. Moon Marble is one of 24 finalists, which include Cloud Ceramics in Concordia and Brant's Meat Market in Lucas.
What the independently owned business does seem to be lacking, however, is support in the form of sales.
"Everybody's worried about spending money," Breslow said.
Breslow cited the economy as a main reason for the recent lack of dollars being spent in his business. But even though he may be struggling a bit with the effects of an economic shortfall, the battle is one he will continue to stay positive about.
"I'm running my business like I'm gonna have business," Breslow said. "If I stop stocking my shelves and I think nobody's gonna come in, nobody's gonna come in."
Moon Marble has been open for 12 years now and specializes in the sale of marbles in many shapes and sizes and retro toys and games such as vintage Slinkies and Chinese Checkers. Not only does Breslow sell machine-made marbles, but he is also an artisan who creates hand-made marbles right there in his store. Three times a week, visitors are allowed to watch as he melts long, colorful glass rods down into small and unique glass globes. To see such an event has been enough to bring in people from all over the world.
"We've had visitors from every state and 39 countries now," Breslow said.
Of course, said Breslow, the store has a loyal following in Bonner Springs as well.
"We have some very dedicated local folks that shop here all the time," he said.
Though recently Moon Marble's popularity hasn't been enough to generate much in the way of sales, Breslow said making money isn't the main focus of his store anyway. If it were, he probably would have picked something other than marbles to sell. The situation he now finds himself in is one he can put up with simply because he believes in the value of Moon Marble.
"I feel good about our business because I think it's a connection to the past," said Breslow. "If we wanted to make money, we'd choose something a lot less labor-intensive."
Breslow seems to be focusing all of his energies right now on running the business as usual and encouraging people to vote for Moon Marble in the 8 Wonders contest. Results will be announced the week after voting closes, on Feb. 17. Naturally, he is hopeful for a win. Being one of the 8 Wonders would not only benefit his business but would be, as he said, "good for Bonner Springs as well." He even has some ideas as to how the occasion could be recognized.
"I think an attraction sign (on the highway) would be in order," he said.