Eudora girls advance to Tonganoxie title match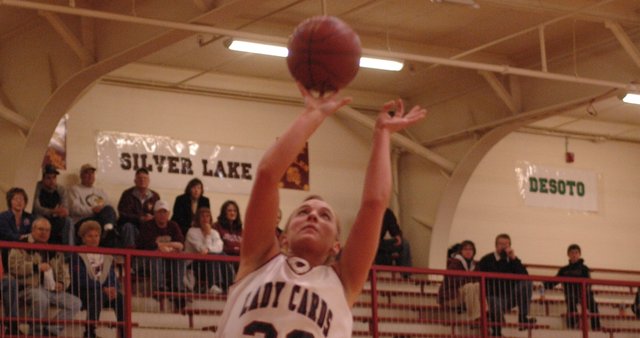 TONGANOXIE – The Eudora girls withstood a second half Silver Lake rally and advanced to the Tonganoxie Invitational championship game with a 49-41 win Friday.
Eudora led 28-12 at the half but Silver Lake outscored the Cardinals in the third period. Silver Lake cut the lead to four at 41-37 before the Cardinals (9-1) regrouped late. After missing three consecutive front ends on one-and-ones, Rachel Pyle and Evan Folks both hit a pair of free throws to seal the win.
"Sometimes coming out of the locker room when you are up 16 you have to really focus on it and play like you are down 16 but we didn't do that," Eudora coach Ryan Luke said. "And they did a great job. They came out and out-hustled us, out-played us in the second half. But luckily we were fortunate enough to do some things right in the second half and get away into the next round."
It is the second year in a row that the Eudora girls have advanced to the championship game at the Tonganoxie Invitational. Last year Eudora lost to Tonganoxie in the final.
"We've come really close the past couple years, and this year coach Luke wants us to take the next step. And we're really excited and motivated to get to that point," Eudora senior Haley Epperson said.
Epperson led Eudora with 19 points, and Mariah Webb and Bailey Scott added 10 a piece for the Cardinals. Eudora will play the Lansing-Tonganoxie winner at 5 p.m. Saturday.
Score by quarters
1 2 3 4 F
Silver Lake 5 7 17 12 41
Eudora 13 15 9 12 48
Silver Lake: Randi Richards 2, Jamie Pfannenstiel 2, Jamie Lockwood 4, Charlsie Bahret 2, Bailey Krogman 6, Hannah Hansen 8, Chelsea Roth 6, Amanda Lewis 11.
Eudora: Bailey Scott 10, Evan Folks 2, Rachel Pyle 5, Mariah Webb 10, Kendal Abel 1, Haley Epperson 19, Shea Lounsbury 2.