Wildcats advance to Tonganoxie Invitational title game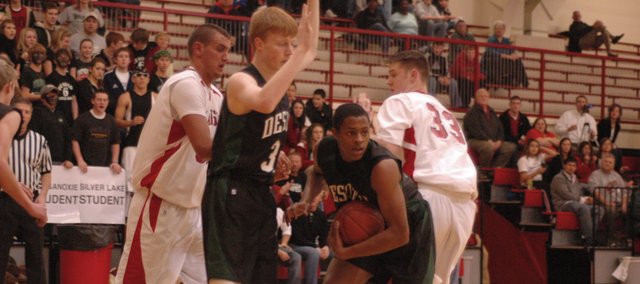 TONGANOXIE – The De Soto boys rallied from 11 points down and knocked off Lansing, 61-60, in overtime Friday night to advance to the championship game of the Tonganoxie Invitational.
Brendon Hudson scored 13 points and hit three three-pointers in the fourth quarter to help De Soto (7-3) claw back into the game. Lansing led 49-45 in the final minutes, but consecutive threes by Brandan Philbrook and Hudson gave De Soto the lead at 51-49. Lansing's Curtis Beall hit two free throws in the final seconds to send the game into overtime.
"It was a credit to our guys to just to keep fighting and playing hard," De Soto coach Jim Bonar said. "The guys that went on just played big minutes. We rotated well and we're unselfish with the ball and getting other people open."
In the extra frame, De Soto freshman Mason Wedel scored on a layup and hit two free throws to give the Wildcats a four-point advantage. Beall would answer with a three-pointer, but Hudson scored to push the De Soto lead back to three. De Soto stretched its lead to four late in the game and held on to win by one.
"It's just from unity," Hudson said. "We had a big pep talk before practice the other day to play as a team and who we're playing for and why we want this so bad."
De Soto will play the Eudora-Tonganoxie winner at 6:30 p.m. Saturday.
Score by quarters
1 2 3 4 OT F
De Soto 8 11 8 24 10 61
Lansing 11 13 14 13 9 60
De Soto: Brendon Hudson 13, Mason Wedel 15, Jamel Townsend 9, Paul Stallbaumer 2, Jeff Bowen 1, Tommy Elmer 9, Brandan Philbrook 8, Aaron Nutterfield 4.
Lansing: Cody Rush 14, Calvin Schneider 12, Curtis Beall 23, Brian Beall 9, Clayton Hall 2.