Chieftain wrestlers ninth at Holton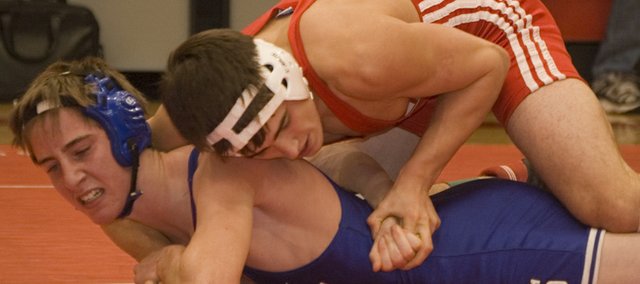 The Tonganoxie High wrestling team finished ninth out of 18 teams at the Holton Invitational on Saturday.
Senior Matt Brock went 3-0 in the 140-pound division to take first place.
Caleb Himpel, a 119-pound freshman, went 4-1 and finished third. Junior Jeremie Maus took third place at 171 pounds, going 4-1 in the process.
Two Chieftain grapplers finished fifth at the tournament. Senior Kevin Hamm (145) was 3-2, and senior Steve Davis (189) also won three and dropped two.
Davis leads THS in pins with 18. Brock's 43 takedowns lead the squad. Himpel has a team-high 30 escapes on the season. Freshman Shane Starcher (152) has 15 reversals this year to lead the team.
Tonganoxie will compete at the Baldwin Invitational on Saturday.