McLouth boys get first win, take fourth at tourney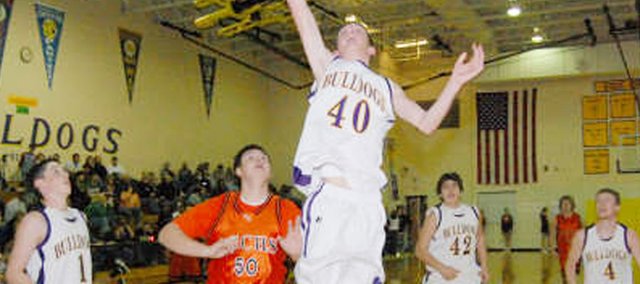 After falling short in its first eight tries, the McLouth High boys basketball team got its first win of the season in the opening round of the team's tournament.
The Bulldogs opened the McLouth Tournament on Jan. 20 with a 56-48 victory against Bishop Seabury of Lawrence. MHS coach Jason Schroeder said it was the perfect way for the team to open its home tourney.
"That win against Bishop Seabury was very nice and it was important because now we can all relax and start enjoying the season a little bit more," he said. "Our kids were extremely excited to get that first win."
Unfortunately for McLouth, the team couldn't keep that momentum going on Friday when MHS faced Atchison County, and lost, 59-45.
"We didn't play near as well in our next game, but we lost to a very good ACCHS team that won the tournament the next night," Schroeder said, referring to Atchison County's 53-37 victory against Oskaloosa in the tournament title game.
As for McLouth, the Bulldogs lost the third-place game of the tournament on Saturday night against Jefferson County North, falling 48-37. Schroeder said the outing was much better than the squad's previous game with JCN, which MHS lost by 23.
"We dug a huge hole early, down 25-8 in the first half and battled back to get within five," Schroeder said, "but just couldn't quite get all the way back."
Ultimately, the coach said, the team was glad to finish fourth and get two of its players, senior Derrick Crouse and junior point guard Cole Batman, on the all-tournament team.
"It was extremely nice to finish on the winning side of the bracket," Schroeder said. "Getting the win is going to help us all focus on the rest of the season now. A huge monkey has been lifted off of our backs."
In Saturday's contest, the Bulldogs (1-10) had just one player, freshman Gavin Swearngin, score double figures. The frosh had a game-high five field goals and hit six free throws for 16 points.
Junior Tyler Drinnon scored six points for MHS and Batman had five.
Schroeder said Swearngin's play of late has made McLouth a more dangerous team.
"Gavin Swearngin's emergence as a scoring threat has really helped us to improve," the coach said. "He has been a factor on the defensive end for us all season, but now he is really starting to feel comfortable on the offensive side of the court."
That transition doesn't always come naturally to freshmen, Schroeder added, praising Swearngin for his development.
"He has adjusted well to the speed of the game and has also started to improve his ability to finish after contact," Schroeder said.
In other medal round games Saturday at MHS, Valley Falls defeated Cair Paravel Latin in overtime, 59-56, in the fifth-place game, and Maranatha beat Bishop Seabury, 57-43, for seventh place.
Against Atchison County on Friday, Batman scored 16 points and forward Crouse added 12 for the Bulldogs in a losing cause. In the team's first victory, four players scored in double figures. MHS was led by Crouse's 15, Batman had 13, Swearngin scored 11 and Jarrod Bechard added 10.