Wildcats roll in title game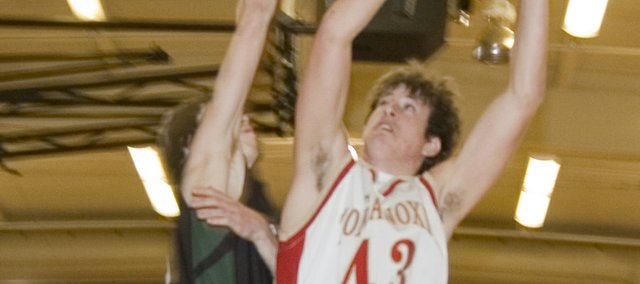 The De Soto High boys basketball team came to the Tonganoxie Invitational with visions of vengeance.
Following a two-point home loss to Eudora on Jan. 16, the Wildcats were hoping for a rematch with the Cardinals in the tournament championship game. Instead, they got host Tonganoxie, which defeated Eudora in the semis, on Saturday.
That's when De Soto coach Jim Bonar told his players they needed to avoid a letdown.
"I know it's not what we wanted, but we came here to take care of business," Bonar said before the game.
His team responded in the form of a 52-30 blowout of Tonganoxie for the tournament crown.
Already up 13 at the half, De Soto (8-2), which closed the second quarter with a 7-0 run, opened the third quarter on a devastating, 19-0 run and cruised to victory on the Chieftains' home floor. Wildcats senior Jamel Townsend, named the tournament's MVP, scored six of his 10 points in the game-changing run.
"Our third quarters haven't been very good this year," Townsend said. "But we told each other we've got to come out and start making that different, start coming out in the third quarter and playing good."
More like phenomenal. After Townsend scored the first two baskets of the second half, Brandan Philbrook, who finished with 10 points, scored a layup, was fouled and hit a free throw. Then, Brendon Hudson buried a three. Following a Tonganoxie timeout, Tommy Elmer scored a layup, Dylan Burford knocked down a three, Townsend tipped in a De Soto miss and Philbrook again converted a fast-break layup.
The score was 47-15 before THS senior Austin Smith drove the baseline for an inside bucket 5:44 into the second half to stop the Chieftains' drought. The center said, given the fact Tonganoxie (6-4) hadn't won the invitational since 1994, the team's struggles were particularly troublesome.
"Not having the intensity," he said, "to throw it away is really not good."
The game already was out of hand when Smith stopped the run, but he said the team had to do something to redeem itself from that point on and finish strong despite the seemingly insurmountable deficit. Smith did his part battling to the end. He scored 13 of Tonganoxie's final 15 points, including all 10 of the team's fourth-quarter points, and received the tournament's Most Inspirational award afterward for his effort.
THS coach Shawn Phillips, however, said his team's overall energy was not good enough.
"Our effort level wasn't as high as what it had been," Phillips said. "Sometimes getting to the top is one of the toughest steps to do, and I don't know if we came with the mind set of what it takes to win the tournament, and De Soto executed very well, ran the floor and we just didn't play with the effort of a champion."
De Soto played some championship defense, holding THS to 12 of 41 shooting. Bonar said at halftime he stressed the importance of stopping the Tonganoxie offense, which the Wildcats did effectively with a zone.
"We knew we'd score points, that wasn't the issue, but we knew we had to make some changes on defense," Bonar said. "If we stop the inside, what are they going to do then? And they never really found a counter to that."
Smith said THS struggled to solve the zone because other teams had not taken that tactic often this season.
"It's not so much that we don't know what to do, we're just not well-versed in running against it," he said.
His coach agreed, and said although the Chieftains had practiced some zone offense, they didn't execute it properly against De Soto.
"In this big of a game," Phillips said, "if you don't execute well, your night's not going to go like you wanted it to."
Hudson, who led De Soto with 13 points, was named to the all-tournament team, as was his teammate Mason Wedel, who had seven points, and Tonganoxie's Keaton Schaffer, who scored five.