Local woman celebrates 100 years in style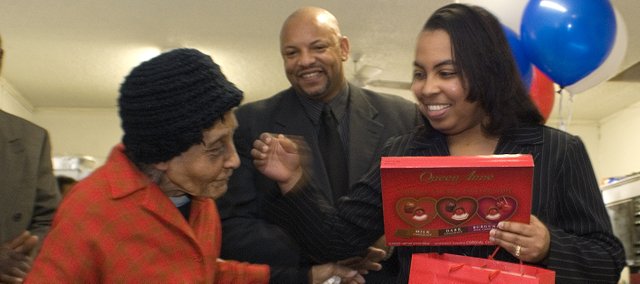 Many things have changed in the 100 years since Ann Jarrett was born.
At the time of her birth, Theodore Roosevelt was in the nation's top office and was later replaced by William Howard Taft in March 1909. That same year: the National Association for the Advancement of Colored People formed and held its first conference; Admiral Robert Peary reached the North Pole; and the Indianapolis Motor Speedway opened, two years before the first Indianapolis 500.
But one of the few things that hasn't changed in all of that time is the support she has given and received from the members of the First Baptist Church.
"Sister Ann has been the cornerstone of our church," Charles Haines said during Jarrett's surprise birthday party at the Tonganoxie church.
More than 40 of Jarrett's friends and family attended the celebration honoring the centenarian with prayer, song and lots of food.
Rev. Carlester Childs said that Jarrett has been the solid foundation of the church and "a blessing to us all."
Childs and his wife, LaShawan, gave Jarrett a bouquet of roses and a couple boxes of chocolate for her sweet tooth, including a box of Queen Anne chocolates.
Jackson Jarrett, Ann Jarrett's nephew and neighbor, said he wanted to do something special to honor the church's revered matriarch. He said Ann, who was the superintendent for the church's Sunday school for many years, had taught many of the church members, young and old.
"She never had any of her own children, but all of the children from this church have been her children," Jackson said.
Ann's other nephew, Charles Jarrett, who lives in Lawrence, said that even after 100 years she doesn't want any help from others like the nurses they hired to look after her.
"She is always telling us, 'if I need help, I'll call you,'" Charles said. "The Lord is always watching out for her, but we are doing what we can from our side."
Jarrett, whose actual birthday is Jan. 21, said it was a great surprise to see everyone at her party and with God's help, "maybe I'll be around for another 400, 500 or 600 years."