Chieftains sweep Chargers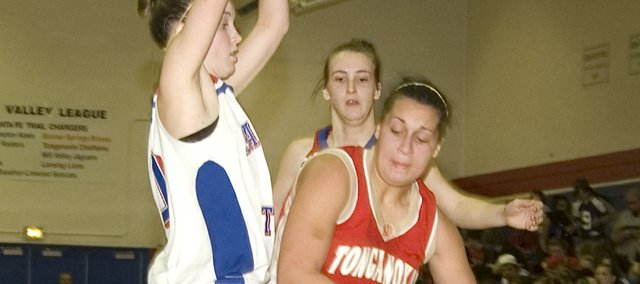 Carbondale — Tonganoxie High's basketball teams both improved to 4-1 in Kaw Valley League play with a sweep of Santa Fe Trail.
Tonganoxie girls 46, Santa Fe Trail 44
The Tonganoxie High girls basketball team rallied from a 16-point second-half deficit for a 46-44 victory at Santa Fe Trail on Friday night.
After the Chargers' Kate Badger scored a layup to give SFTHS its biggest lead of the game in the third quarter, the Chieftains (9-3) went on an 8-0 run to close the third quarter with a lay-in by Roni Grizzle, three free throws from Andie Jeannin, one freebie from Grizzle and a jumper from Haley Smith in the final seconds of the period.
Santa Fe Trail and Tonganoxie matched each other score for score the first few minutes of the fourth quarter — two Grizzle free throws were countered with a Shara Luther bucket and a three-pointer from THS guard Lauren Hall was answered with a basket from Cassie Pryor — before senior THS point guard Chrissie Jeannin went on a personal 8-0 run and gave her team a 41-40 lead with 4:36 remaining.
Tonganoxie travels to Basehor-Linwood on Tuesday.
Score by quarters
Tonganoxie 6 10 12 18 — 46
Santa Fe Trail 6 14 16 8 — 44
Tonganoxie scoring
Roni Grizzle 21, Chrissie Jeannin 12, Andie Jeannin 5, Lauren Hall 4, Haley Smith 4.
Santa Fe Trail scoring
Devin Ramsey 7, Cassie Pryor 8, Shara Luther 9, Kate Badger 7, Amanda Bixel 11, Korbynn Stallbaumer 2.
Tonganoxie boys 60, Santa Fe Trail 40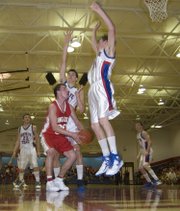 The Tonganoxie High boys basketball team, powered by its most balanced scoring attack of the season, pulled off a convincing road victory Friday night, defeating Santa Fe Trail, 60-40.
Seven Chieftains entered the scoring column in the victory with outputs ranging from five (Brandon Yoder) to 13 (Keaton Schaffer).
The Chargers took their first and only lead of the game early in the second quarter when Stuart Kraus scored inside to give SFTHS a 19-18 advantage. However, Tonganoxie (8-4) swung the momentum in its favor with a 13-0 run after that brief deficit.
THS sub Justin Jacobs scored to give the Chieftains the lead for good. The rest of the run featured five points from Schaffer, two baskets from Jamie Everett and a transition layup from Jeremy Carlisle.
Jace Waters scored 12 points, all in the second half, for Tonganoxie and the team's big man, Austin Smith, scored nine points despite spending the bulk of the game on the bench with foul trouble.
Tonganoxie travels to Basehor-Linwood on Tuesday.
Score by quarters
Tonganoxie 16 15 19 10 — 60
Santa Fe Trail 10 10 15 5 — 40
Tonganoxie scoring
Jeremy Carlisle 7, Jace Waters 12, Keaton Schaffer 13, Jamie Everett 8, Austin Smith 9, Brandon Yoder 5, Justin Jacobs 6.
Santa Fe Trail scoring
Jesse Bahner 3, Joseph Burgett 4, Dalton Abel 11, Jason Lee 6, Corey Dahl 4, Kyle McDaniel 2, Stuart Kraus 10.